Connecting VR-3
Get started by installing Varjo Base and connecting your headset.

Note that Varjo Base 3.0 is required to use VR-3. Varjo Base 3.0 will be available in early 2021. You will need a Varjo Account and a Varjo Subscription to use VR-3.
Start Varjo Base and follow the setup steps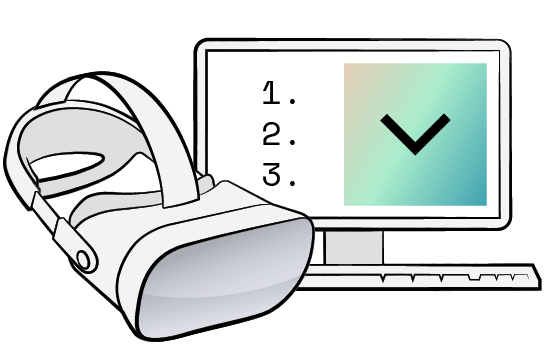 Varjo Base will help you set up your headset. You can also follow along the setup steps on this page.
When running Varjo Base for the first time, we will confirm your computer's compatibility with your headset. You can find further compatibility information on the System requirements page.
Connect your headset
Follow the setup steps to connect your headset with your computer.
1.  Start Varjo Base

Varjo Base is the software needed to run your headset on a Windows 10 computer.

When you start Varjo Base for the first time, it will automatically open the first-time user guide which will help you through the setup process. You can open the guide at any time in the Support tab under Run setup.

2.  Connect your headset

Headset cables and : connect each cable to a headset adapter.

Headset adapters: connect each adapter to a DisplayPort port on the graphics card and to a USB-A 3.0 / 3.1 port on the motherboard.

When you connect the headset to your computer for the first time, Windows will recognize the headset as a new USB device and install the appropriate drivers.

3.  Optional: Connect your headphones

For applications that include sounds or voice input, you can plug in your headphones on the left side of the headset. Headphones with a standard 3.5mm audio jack are compatible with Varjo headsets.

Remember to select the correct audio output and input source from the sound settings on your Windows computer.
Tracking methods
Your headset uses a tracking system to know its exact position. The Varjo VR-3 headset supports the following tracking methods:
 SteamVR™ Tracking uses up to four SteamVR™ base stations to track your headset and optional controllers.
 Third-party tracking methods can also be integrated with Varjo headsets.