Using the headset
This page will show you the basics of using your headset and running applications.
Starting a VR application
To start a VR application in your headset, simply run the application on your Windows computer. The application will open directly in your headset.
Make sure that your VR application is compatible with Varjo headsets. Details on how to migrate your existing applications to Varjo headsets can be found on our Developer portal.
Quitting a VR application
There are two ways to close a VR application:
Close the application on your Windows computer.
In the headset, locate and close the shortcut for the running application in System settings.
Powering the headset on and off
Your headset is powered by the Link Box power supply. If the Link Box is plugged in, your headset will remain powered on even when you turn off your computer.
The headset will go idle when you are not using it. When idle, the headset displays are turned off and the LED light will blink white.
Your headset is automatically activated when you move it. The displays are turned on and the LED light will turn green.
Using the headset buttons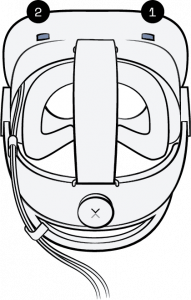 There are two buttons on your headset: (1) the System button and (2) the Application button.
Use the System button to access System settings when wearing the headset.
Use the Application button for interacting with applications. This button can serve different purposes depending on the application.
The System button also features an LED light to indicate the status of your headset. A full list of LED light colors and associated statuses can be found in the FAQ section.
Using the System settings
You can access the System settings at any point while wearing the headset.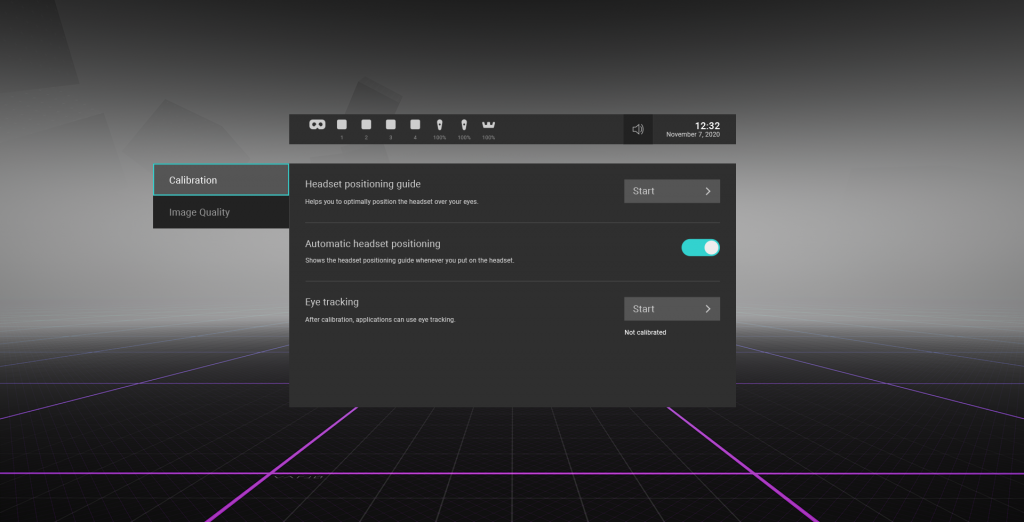 Press the System button to open System settings. Turn your head to focus on an item and use the Application button to select. You can also point and select with a controller, or use the mouse if the Disable mouse in headset setting in the Presentation tab is not enabled.
Press the System button again to exit System settings.