Using Varjo Base
Varjo Base is the software used to control your headset. You can observe what the headset viewer is seeing, quickly access settings and presentation tools, and analyze your project with real-time data.
Overview of Varjo Base
The main window in Varjo Base is divided into different sections as shown in the image.

Hosting a session
The viewer's experience is displayed prominently in the Headset view.
Below the headset view are tools to record your observations and guide the viewer when needed.
| | |
| --- | --- |
| Screenshot | Captures a screenshot of the headset view. The image file is saved in the Pictures\Varjo folder on your Windows computer. |
| Record | Records video of the headset view. The video file is saved in the Videos\Varjo folder on your Windows computer. |
| Gaze dot | Visualizes the eye tracking feature to see where the viewer is looking. This feature is only accessible if eye tracking is calibrated. |
| Pointer | Turns your mouse cursor into a VR pointer that is visible inside the headset. |
Using presentation options
The Presentation tab in the Settings panel contains features to ensure that no headset actions are triggered accidentally by the viewer.
Disable headset buttons
Disables the headset buttons, so that the viewer can focus on the immersive experience while the presenter controls headset features from Varjo Base.
Disable mouse in headset
Disables the mouse in the headset, so the mouse works on your computer only and cannot be used to control System settings in the headset.
Disable notifications in headset
Disables notifications in the headset to keep the immersive experience free of distractions.

Note that error messages are still displayed in the headset.

Optimize performance
Improves performance by shutting down those Varjo processes that are not needed run the current application.
Positional tracking
Tracking lets your VR application know the exact position of your headset and allows you to move around while using the headset.
Note that this section applies to Varjo inside-out tracking and SteamVR™ Tracking only. If you are using a third-party tracking method, contact your tracking technology provider for more information.
Device statuses in Varjo Base
The tracking status of your headset is displayed in the status area in Varjo Base. If you use SteamVR™ Tracking, your base stations and optional controllers are also listed in the status area.
When using Varjo inside-out tracking
XR-3
| | |
| --- | --- |
| | Headset is connected and tracking. |
| | Headset is connected but tracking is not working. Make sure that Varjo inside-out tracking is calibrated. |
| | Headset is not connected. Power on your headset to connect. |
When using SteamVR™ Tracking
| | |
| --- | --- |
| | Device is connected and tracking. |
| | Device is connected but tracking is not working. Tracking may be temporarily lost if the device is not in direct line of sight with the base stations. |
| | Device is not connected. Power on your devices to see their status. |
| | Device battery is low. You will need to charge it soon. |
| | Device is charging. |
If many devices are connected, they are grouped together by device type. Click the status area to see a detailed view of all devices.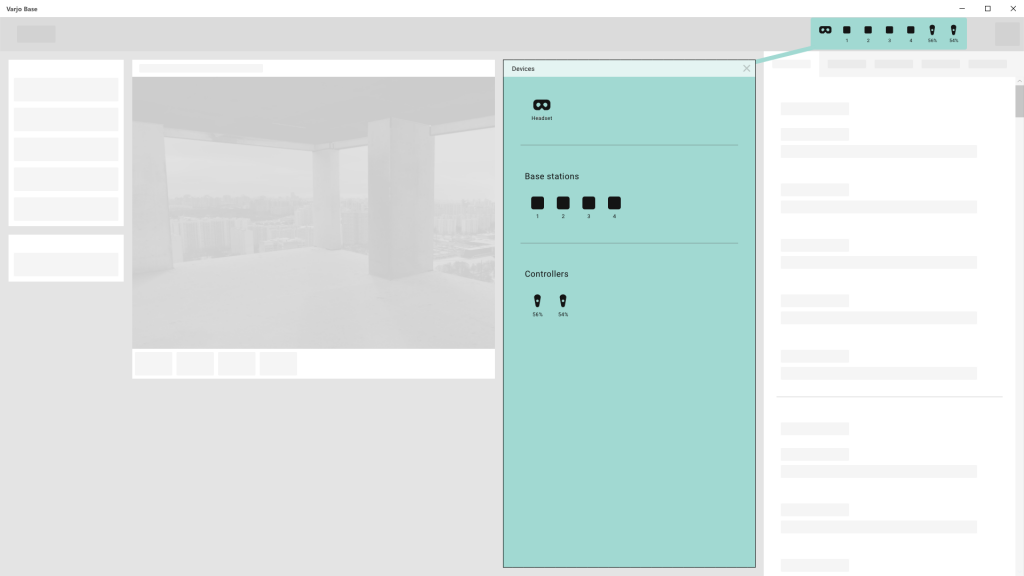 Override origin and direction
When using SteamVR™ Tracking, you can override the origin point, direction, and floor level of your room setup in Varjo Base. This can help you temporarily fix tracking-related problems, such as your application starting in the wrong direction or virtual content drifting out of place.
The override feature applies to your headset by default. Other trackables, such as controllers, are affected if your application supports the feature.
Note that this feature is intended to be a temporary fix only. We recommend you carefully check your tracking environment and perform a new room setup in SteamVR to correct problems related to tracking.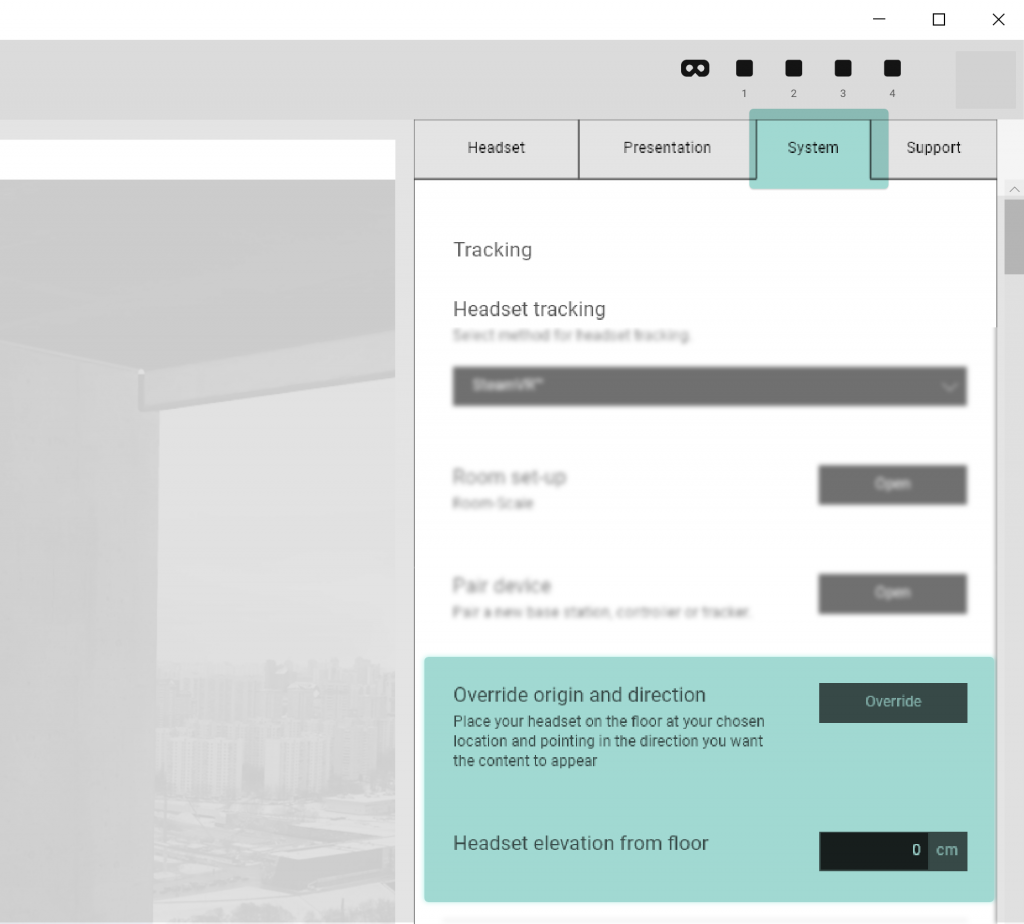 Follow the instructions to adjust your room setup:
 Place your headset in the location where you want to start the scene and point it in the desired direction.
 In Varjo Base, navigate to the System tab and select Override origin and direction. The Override button text will change to Active.
 If needed, set the headset elevation in centimeters under Headset elevation from floor.
While the override setting is active, your application will use the adjusted room setup over the original one.
Return to your original room setup by clicking the Active button.
Analytics window
The Analytics window in Varjo Base includes additional tools for developers in particular. You can open the Analytics window from the Tools menu.
Read more about the Analytics window on our Developer portal.
Software and firmware updates
You can install software and headset firmware updates in Varjo Base. We recommended you always use the latest software and firmware.
Go to the Support tab in Varjo Base to check for available updates. Enable Automatically check for updates to allow Varjo Base to automatically check and display a notification if updates are available. All updates will ask for your confirmation before they are installed. Select Varjo Base software update to check for updates manually.
If your computer does not have internet access, you can use another computer to download the updates and copy them over to your computer. Varjo Base can be found our Downloads page and firmware updates on our Developer portal. Select Manual update and locate the installation file to update.
Important:  Firmware updates for Varjo headsets can only be installed using Varjo Base. Never attempt to update the firmware using the SteamVR application. If SteamVR suggests you update the firmware for your headset, please ignore the notification.