The next level of professional VR starts now with Varjo VR-2.
With human eye-resolution, integrated eye tracking, and unprecedented software compatibility, Varjo VR-2 allows you to explore and create 3D models, train in realistic environments, and create limitless research scenarios – all with the pixel-perfect clarity that only Varjo can deliver.
The only virtual reality headset qualified for astronaut training.
With Varjo VR-2, the Boeing Starliner space program has unlocked an entirely new way for astronauts to prepare for spaceflight. Varjo allows astronaut training – from pre-launch to docking to landing – entirely in VR for the first time.
The Varjo VR-2 headset provides a clear, human-eye resolution system so that the crew can read instruments from a normal distance, which vital to effective astronaut training.
Human-eye resolution with Bionic Display™.
Resolution is key when it comes to using VR in the most demanding industrial settings. With human-eye resolution of over 60 PPD, plus improved peripheral vision and color consistency, VR-2's Bionic Display delivers pixel-perfect clarity and the most natural visual experience for exploring and interacting with high-resolution 3D models and simulations.
COMPARISON IMAGES
By delivering the world's only VR with human-eye resolution, Varjo allows professionals to create and interact with true-to-life VR prototypes.
These are unedited, shot-through images of Autodesk VRED software. On the right, you can explore the tiniest details, thanks to the human-eye resolution (over 60 PPD) in Varjo's headset.
It's a resolution revolution for SteamVR and OpenVR.
In addition to compatibility with the most popular 3D software, Varjo VR-2 and VR-2 Pro are the only devices on the market that support SteamVR content and the OpenVR development platforms at ultra-high resolution (up to 40 PPD / 4K rendering per eye).
Varjo's unmatched visual fidelity supercharges SteamVR applications, giving quick and easy access to hundreds of professional applications for research, analytics, training and simulation, industrial design and more.
With Varjo's ultra-high resolution support for SteamVR and OpenVR content, the visual fidelity is crystal-clear in the professional applications. These are unedited pictures shot through a competitor device and Varjo when using the DCS World simulator.
With Varjo, you see the tiniest details near and far, and every color, surface and contour are just as clear as they are in the real world.
The most accurate eye tracking the world has ever seen.
Varjo's 20/20 Eye Tracker™ is the most advanced and powerful stereo eye tracking technology ever integrated into a VR headset.
Now with even faster and more accurate calibration performance, 20/20 Tracker™ gives you never-before-seen access to precise eye data for use in research, analytics, training and simulation, industrial design, and more.
20/20 Eye Tracker™ is optimized for data analytics and user interactions in the most demanding professional environments. And it works just as precisely and accurately even when worn with glasses.
Hear what our customers say
"The ultra-high resolution that Varjo brings to Gravity Sketch via SteamVR compatibility is something we are very excited about."
Oluwaseyi Sosanya, Co-Founder & CEO of Gravity Sketch
"Combined with Bohemia Interactive Simulations' VBS Blue IG, the VR-2 and VR-2 Pro enable a high-fidelity yet affordable visual system supporting human-eye resolution which is unprecedented in the industry today."
Pete Morrison, BISim's Chief Commercial Officer
"Varjo VR-2's ultra-high resolution support for KeyVR advances rich, detailed VR visualization."
Jesper Mosegaard, Director of Products at Luxion
Resolution and refresh rate
Next-generation Bionic Display with resolution at over 20/20 vision (over 60 PPD / 3000 PPI), flicker-free screen refresh at 60/90 Hz. Combining two 1920x1080 low persistence micro-OLEDs and two 1440x1600 low persistence AMOLEDs.
Colors
Infinite contrast ratio (over 10,000:1) enabling the deepest blacks and individually calibrated colors, delivering outstanding accuracy and image quality. Individual image uniformity compensation done for every device for optimized image quality.
Eye tracking
Now with even faster and more accurate calibration – industrial-grade, sub-degree accuracy integrated 100Hz stereo eye tracking delivering unmatched accuracy and precision. Made to work seamlessly with Varjo's next generation Bionic Display™.
Optics
Dual lens design combining different refractive index lenses for minimal color aberrations, zero ghost rays, and minimal reflections. Each surface coating has been methodically designed to maximize the brightness and clarity of the light fusion needed to achieve human-eye resolution. Improved optical materials generating more natural images.
Weight
605 g (+ headband)
Comfort & wearability
Active airflow system, adjustable and detachable headband and head strap, comfortable usage with two different sized, easily replaceable face cushions and automatic interpupillary distance (IPD) adjustment for easy and accurate calibration when switching headset users.

Tracking
Compatible with Steam VR™ and ART™
Connectivity
Thin and light optical fiber cables of 5-meter length with USB-C. Link box for easy connection with PC.
Audio
Headphones with a 3.5mm audio jack are compatible with the Varjo VR-2.
Component
Recommended
Minimum
Processor
Intel Core i7-8700

AMD Ryzen 7 2700

Intel Core i7-6700

AMD FX™ 9590

GPU *
NVIDIA GeForce® RTX  2080

NVIDIA Quadro RTX 6000

NVIDIA GeForce® GTX 1080

NVIDIA Quadro P5000

Memory
32 GB
16 GB
Storage space
2 GB
Video output
2 x DisplayPort 1.2 / 2 x mini DisplayPort 1.2
USB port
1 x USB-A 3.0 port or newer, not using any Hub
Operating temtem
Windows 10 (64-bit)
* Note: AMD GPUs are not currently supported by Varjo.
What's in the box
Varjo VR-2 headset
Link Box
Power supply unit
3 power cables
Large face mask + Standard face mask + Cleaning cloth
Cables 1 x USB-C, 2 x DisplayPort, 2 x mini-DisplayPort, 1 x USB-A.
Varjo Software & Support service
Varjo Software & Support is designed to ensure our enterprise users get the headset up and running successfully and maximize the value of their device. The service will accompany all VR-2 purchases (€795,00), and it is offered for a minimum of one year. The service can be extended after the first year to continue getting premium business support service and our latest software updates.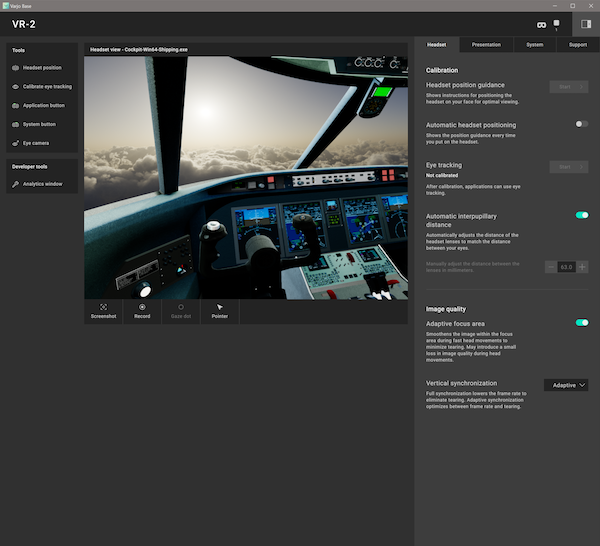 Introducing Varjo Base.
Varjo Base is the companion software needed to run and manage the Varjo headset on your workstation. Varjo Base allows you to get things done more efficiently, with powerful features in key areas like first-time guidance, managing the user experience, presenting to others, running diagnostics and utilizing eye tracking, and developing for the headset. We are continuously introducing new features and improvements into our software based on customer feedback.
Purchase VR-2 for €4995
Varjo VR-2 is available for purchase and shipping to 35 countries across Europe, North America and Japan in 2–4 weeks. For business use only. Varjo Software & Support service (€795) will be added to the price of all VR-2 purchases.