Varjo Partners with MeetinVR to Deliver Photorealistic Virtual Collaboration
New partnership marks the beginning of virtual and mixed reality immersive collaboration for the most demanding enterprise applications in training, simulation, and engineering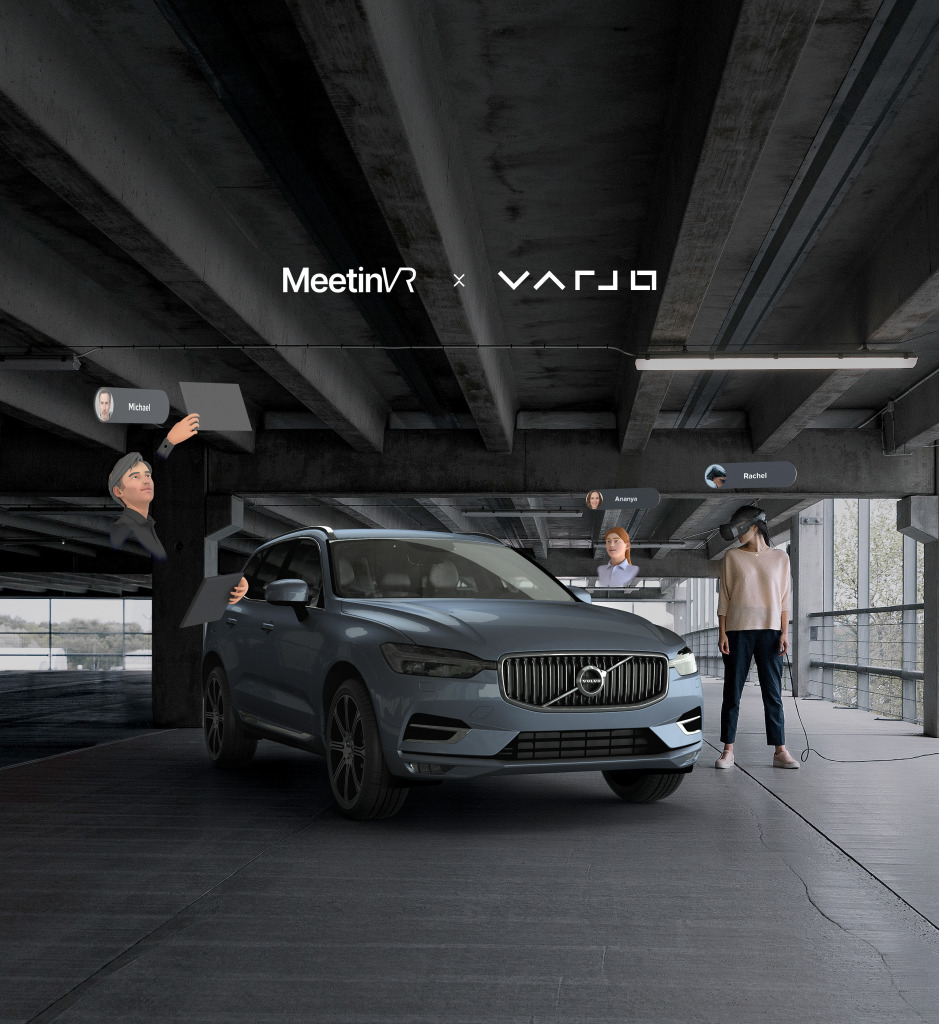 Helsinki, Finland – May 27, 2020 – Varjo, the leader in industrial-grade VR/XR headsets, today announced a commercial partnership with MeetinVR, creators of enterprise virtual collaboration software. Through the partnership, MeetinVR will release a dedicated version of their application that supports all headsets in Varjo's state-of-the-art product portfolio (e.g. VR-3 and XR-3) so enterprise users can experience a new level of immersion and visual fidelity during virtual collaboration.
Varjo and MeetinVR have also introduced a new bundle offer where new buyers of any Varjo headset will receive six months of MeetinVR for free for five users.
"Remote working is now becoming our new normal and the need to be able to virtually collaborate with colleagues, customers and partners around the world is business critical," said Urho Konttori, co-founder and Chief Product Officer at Varjo. "As enterprises adapt to a new work environment, we're excited to partner with leading industry players, such as MeetinVR, to help build the future of virtual and mixed reality collaboration."
A true sense of immersion and presence
Delivering a solution that provides photorealistic 3D quality is essential to creating a true sense of immersion and presence while working together in VR and XR environments. Pairing the unique human-eye resolution found in Varjo's devices with MeetinVR's enterprise-grade, easy-to-use software allows companies to collaborate around key use cases including the remote sales of high value products such as medical machinery or new vehicles, the launch of new products, and the delivery of remote training to distributed teams.
"Varjo's photorealistic resolution gives users the ability to see reflections and shadows of their 3D models, as well as read text, all of which create a realistic experience for collaboration amongst meeting participants," said Cristian Emanuel Anton, CEO of MeetinVR. "With this partnership, users don't have to abide by the rules of physics anymore. They are able to merge real and virtual elements seamlessly in our collaborative platform. This sets a new benchmark for remote presence and interaction for professionals."
Bringing remote collaboration to the next level
One of the many enterprise customers, Volvo Cars, sees the benefit of enhanced virtual collaboration and is already using mixed reality to transform their workflows.
"VR collaboration is the future, and for that we need the highest possible quality. Varjo is the only headset you can use for automotive design processes and reviewing your designs in detail. We are excited about using Varjo's revolutionary technology to collaborate on photorealistic virtual models with our colleagues across continents," said Christian Braun, VP of Visualization at Volvo Cars.
"The high quality and fidelity of what Varjo's headsets offer, together with the effective collaboration tools from MeetinVR, bring remote collaboration to the next level," said Timmy Ghiurau, Lead Virtual Experiences at Volvo Cars. "From UX evaluation, to hosting virtual workshops to ideating around our products, being able to do so in a realistic virtual environment will make our processes more efficient and collaborative, especially in the current context."
Enterprise users interested in exploring immersive collaboration can see a demo video of the Varjo and MeetinVR mixed reality solution here. Learn more about the joint solution here: varjo.com/product-updates/meetinvr/.
After three years in private Beta with numerous Fortune500 companies as customers, MeetinVR has today launched their open Beta for trial at www.meetinvr.com.
About Varjo:
Varjo is creating the world's best hardware and software for groundbreaking VR/XR computing devices, merging the real and virtual worlds seamlessly together in human-eye resolution. www.varjo.com
About MeetinVR
MeetinVR is a Danish VR software company making human interaction more intuitive and effective than in real life by creating a new reality, optimized for teamwork and collaboration.
Media Contact:
Brittany Edwards
Carve Communications for Varjo
varjo@carvecom.com
210-382-2165
Latest press releases from Varjo