Case Vesaro: Accelerating VR into pole position for Sim Racing
Triple monitors or a virtual reality headset for racing sims?
Combined with Vesaro's bespoke rigs, the all-new Varjo Aero headset turbocharges visual fidelity for VR racing, bringing new clarity to the choice for motorsport athlete Archie Hamilton.
The premium side of sim racing
Tucked away in an industrial estate, not far from London, lies Vesaro. A British design and manufacturing company specialized in producing high-end simulation rigs.
Vesaro now offers the Varjo Aero VR headset as an option for their bespoke racing simulators, and acclaimed professional racing driver Archie Hamilton has had the opportunity to put the new hardware to the test.
Inside Vesaro
Vesaro's premium rigs are modular, offering practically infinite versatility through thousands of possible combinations. Stepping into their showroom reveals a sim racer's dream, with bucket seats in laser-cut steel frames and luxury sim racing peripherals lining the walls.
Advanced prosumer enthusiasts, e-sports champions, and motorsport professionals can choose their preference for direct drive steering wheels, tactile feedback systems, surround sound audio, multi-axes motion platforms and more.
Monitors or VR headsets, which track to take?
During each custom build, the customer will meet the most impactful module choice of all; The visual setup. To see the simulated track ahead, options range from a collection of multiple screens mounted on steel supports in front of the driver, to the use of a Varjo Aero VR headset, or both.
Traditionally mounted monitors have been the de facto choice for advanced sim racing, as earlier generations of VR headsets have not been able to hit the mark visually, supplying low clarity, pixelated experiences that prompted motion sickness and poor lap times.
The potential for virtual reality and sim racing, however, has always been clear. VR is the only medium capable of transporting a user into the virtual driving seat, replicating a true-to-life perspective that only a select few have the possibility to experience on an actual track.
Seeing rival cars drawing alongside on a straight, watching shadows slide across meticulously modelled car interiors, and 'looking through' the corners creates an unrivalled sense of immersion.
"For racing enthusiasts, a no-compromise VR experience is intense, thrilling, and frankly sublime. This is as real as it gets." – Rune Huse Karlstad, Head of Sim Racing, Varjo Technologies
"With the headset, you feel like you're there."
Archie Hamilton, Professional Racing Driver
Benefits of VR for sim racing
Feel true-to-life, 'in-seat' immersion
Perfect breaking points with accurate distance judging through 3D stereoscopic depth perception
Gain an enhanced sense of speed and track connection
Look through corners, from entry, to apex, to exit
Save space with smaller rig footprint possibilities
Can be installed in combination with monitor setups
From 'Le Mans' to a new reality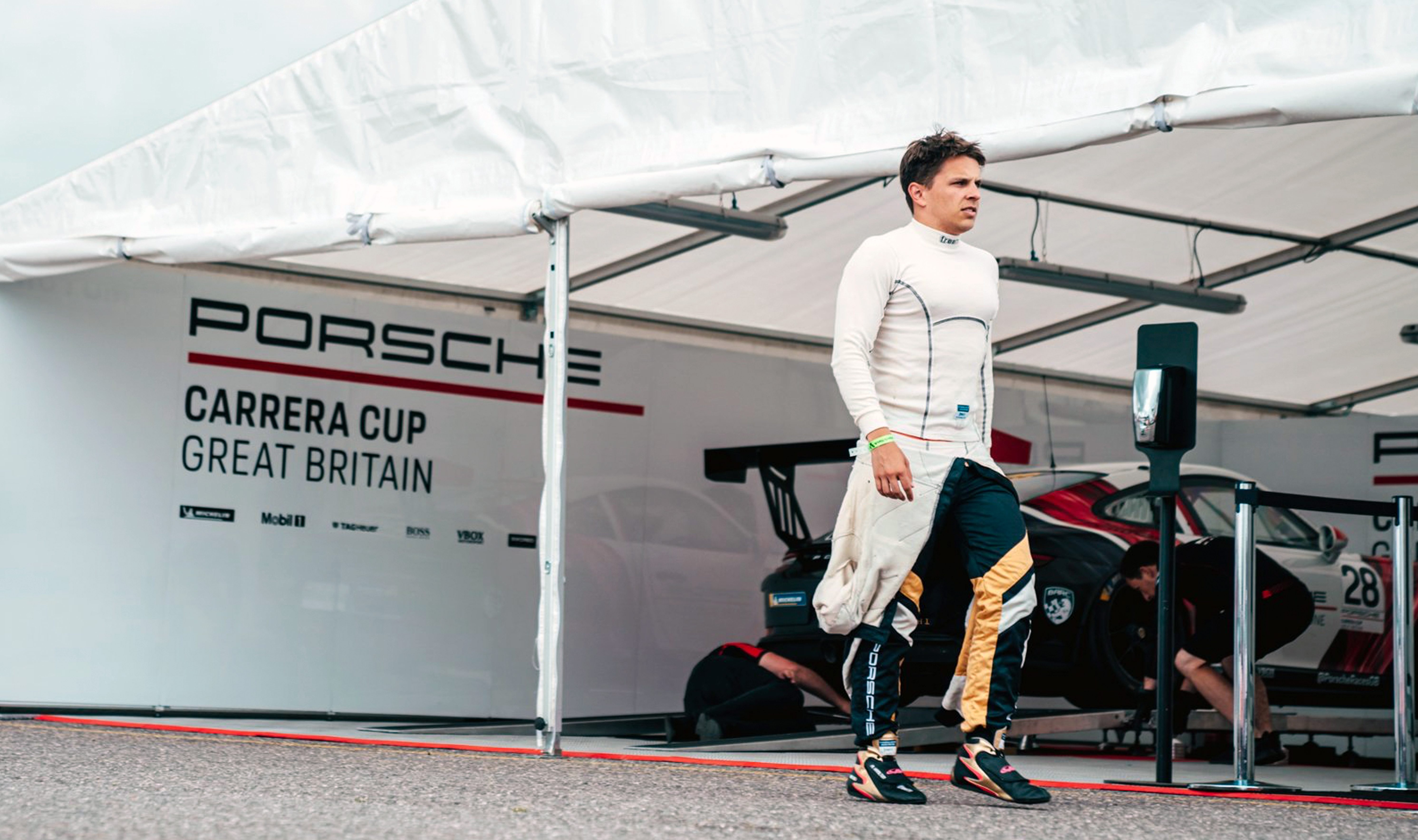 Archie Hamilton is an acclaimed professional race driver, with a career that runs from go-karting as a teenager to wins and podiums across events including Formula Ford, Formula Renault, the Porsche Carrera cup, the International GT Open, and the Le Mans 24-hour race.
In recent years Archie has expanded into the content creation space, with his humour-infused car and sim racing videos gathering a huge following across YouTube, Instagram, and now Tik Tok.
"When you're on the grid, and the lights are about to go out, and you're looking around yourself, it's very hard to replicate that. To be honest, before, I wasn't a fan of VR. And then I tried this, and I was like, you know what, this is really, really impressive. It really immerses you in the racing experience." – Archie Hamilton, Professional Racing Driver
A new generation of VR. A new generation of sim racing.
At 35 PPD, the Varjo Aero headset has the highest peak pixel density of any virtual reality headset currently available to consumers. The vibrant mini-LED displays, seen through crystal clear aspheric lenses, finally show off the finest details of software such as Assetto Corsa Competitzione, iRacing, or Automobilista 2.
Even whilst hurtling across the tarmac at breakneck speed, issues with VR of the past, such as the screen door effect or God rays, are left in the dust.
The Aero uses SteamVR™ positional tracking technology to accurately measure the location and movements of the headset. Communicating with a lighthouse base station mounted on the front of the rig, the Aero can simulate even the most subtle of head movements.
Combined with advances in PC hardware; a high framerate and naturally smooth visuals can be produced, greatly improving the experience for those who are prone to motion sickness.
"That was a major issue for me so to see it go away, just like that. It's incredible." – Charles Woodward, Sales Manager, Vesaro
The Aero's automatic IPD adjustments (where the lenses move to match the position of the users' eyes), active cooling system, and best-in-class three-point precision head strap all combine to counteract complaints of VR solutions being uncomfortable for long-duration sessions or endurance events. Multi-lap tours of the Nürburgring are now entirely feasible in complete immersion.
A winning combination
With the Varjo Aero, virtual reality has finally caught up to speed with the demanding features required for advanced sim racing. Extreme clarity, unparalleled immersion, and vastly improved ergonomics are all set to cause a major leap forward for the community.
"The Aero is a huge step forward for professional and enthusiast sim racers. On top of the high-end possibilities with premium rigs like Vesaro's, we're seeing a demand for Aeros by individual prosumers to take their existing at-home setups to the next level." – Dominic Champion, Senior Account Manager, SystemActive.
Best of all, it doesn't have to be one or the other, as headsets can easily be included into mounted monitor setups with a comparatively small investment. Combination setups allow users to pick and choose situations where to use either visual solution; for example using the mounted screens when completing long-duration endurance events and switching to VR when seeking an intense, immersive thrill.
Actively advancing VR in the UK
SystemActive is a Varjo reseller in the UK and a driving force behind the new integration of Varjo headsets into Vesaro's simulators. SystemActive specialises in supplying complete solutions and can provide all the software, hardware, and support required to run next-generation virtual and mixed reality experiences.
To watch the interview conducted with Vesaro and Archie Hamilton, facilitated by SystemActive, click below.
To learn more about the Varjo Aero, and how it delivers the most immersive virtual reality experience ever constructed, head this way.
See latest updates from Varjo
Case Explico: How Mixed Reality Helps Forensic Engineers Educate Jurors in the Courtroom