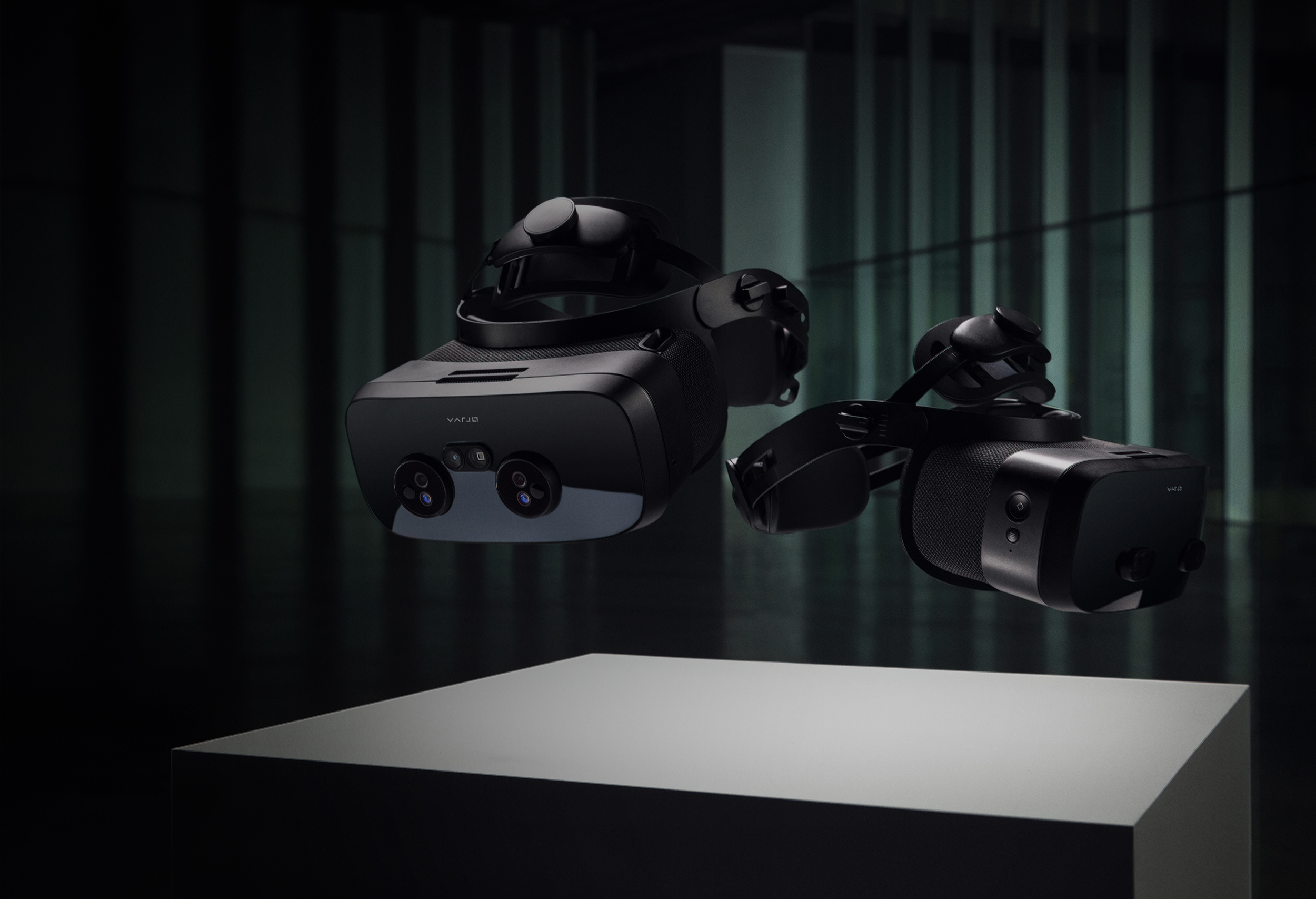 Twice the Performance, Half the Price – See How the New Varjo Headsets Improve from Earlier Generations
Varjo XR-3 and VR-3 virtual and mixed reality headsets allow professionals to be focused and perform at their highest level.
In this post, we take a closer look at the key improvements from Varjo's earlier professional-grade XR/VR devices.
Made for Professionals
For over four years, we at Varjo have worked with companies from some of the world's most demanding industries, including medical, space, automotive and defence. Customer feedback has pushed our team to develop the most advanced features for industrial virtual and mixed reality.
The new Varjo VR-3 and XR-3 headsets are tailor-made for professional use. Let's take a closer look.
The Highest Resolution for Virtual and Mixed Reality Headsets – Over 70 ppd
The human-eye resolution visual fidelity that Varjo has already been known for has reached new heights in our newest headsets.
The full-frame Bionic Display in Varjo XR-3 and VR-3 features human-eye resolution running at more than 70 pixels per degree (ppd) or 1920×1920 pixels per eye, compared to earlier 60 ppd.
Outside of the human-eye resolution area, the resolution is 35 ppd (or 2880×2720 pixels per eye) and gradually lowers towards the far periphery. Compared to the earlier peripheral resolution of 14 ppd, the resolution has more than doubled. This makes the visual experience even more natural than before and eliminates screen-door effect.
The refresh rate is 90 Hz, providing a smooth experience even with dynamic content. All devices are color calibrated to 99% sRGB and 93% DCI-P3. This means that the headsets suitable for even the most demanding use cases like car design.
The Only Human-Eye Resolution Virtual and Mixed Reality Headsets
The human-eye resolution area in Varjo headsets covers the center of the field of view, similarly to the way the human eye works. For VR-3 and XR-3, the area has doubled in size, and its position is now perfected for demanding simulations.
VARJO
These images have been taken through a competitor device and a Varjo headset. Varjo's virtual and mixed reality headsets feature the highest resolution XR/VR in the market – at over 70 PPD – allowing you to see and read the smallest of details in a virtual scene.
Industry's Widest Field of View at 115°
Both Varjo XR-3 and VR-3 feature a 115-degree field of view (FOV). It's the widest in the industry and a remarkable upgrade from the 87-degree FOV available in earlier generations.
The difference between Varjo's FOV and competitor headsets is notable especially for mixed reality. With optical see-through based AR devices, such as Hololens, you can only experience a narrow and holographic augmentation.
With Varjo XR-3, the mixed reality content is realistically opaque, and it can be explored throughout the full 115-degree field of view. This is a striking difference compared to the narrow augmentation available in optical see-through devices.
Optical see-through can't even come close to "hard AR" – the holy grail academic term used to describe a reality where you can no longer tell what's digital and what's real. Varjo changes that. By using video pass-through, Varjo's mixed reality device completely and convincingly merges real and virtual content. This makes it the only device to achieve photorealism in mixed reality.
VARJO XR-3
See how Varjo XR-3 makes immersive content indistinguishable from reality.
The Fastest and Most Accurate Integrated Eye Tracking
Both Varjo XR-3 and VR-3 come with integrated eye tracking. Its speed is doubled at up to 200 Hz, compared to 100 Hz in earlier generations. Professional XR/VR users can analyze even the smallest eye movements with research-grade accuracy and precision.
Varjo has also enabled a faster setup process through single-dot calibration for different users. The accuracy is still world-leading when it comes to integrated XR/VR eye trackers (<1 degree).
Built-in Ultraleap Hand Tracking Brings Intuitive Interactions to Virtual and Mixed Reality
Building on the success of Ultraleap's hand tracking in the Varjo VR-2 Pro, the new Varjo XR-3 and VR-3 both come with Ultraleap's fifth generation of hand tracking, known as Gemini. This is the first integration of Gemini into a XR/VR headset, and the licensing model covers all commercial use cases.
With integrated Ultraleap, Varjo users get the fastest, most accurate, and most robust hand tracking with superior performance in key areas such as initialization, pose accuracy, and occlusion handling.
Improved Comfort and Usability for Multi-Hour Sessions
The Varjo XR-3 and VR-3 feature a new 3-point precision fit head band, enabling a fit for all head shapes and sizes. The weight of Varjo XR-3 is also significantly lighter compared to earlier generations. The surface materials of both headsets are easy to clean.
Optimal lens position for your interpupillary distance (IPD) is key to avoiding fatigue and discomfort in immersive sessions. Both Varjo XR-3 and VR-3 come with an automatic IPD adjustment. This guarantees easy and accurate calibration when switching headset users.
Easy Universal PC Connectivity
We believe that the world's most advanced tech needs to be the world's easiest to take into use.
With new USB connectivity, both Varjo XR-3 and VR-3 are now compatible with a broad range of Windows 10 desktop computers. There are thousands of different PC models in the market for our customers to choose from.
In addition, Varjo works in partnership with selected leading PC manufacturers to test and certify different models as Varjo Ready Computers to make it quick and easy to get started with XR/VR.
Saving the Best for Last: Half the Price
Available now at a new price point, our headsets are accelerating organizations' ability to bring immersive technology into every workplace.
The world's most advanced mixed reality headset Varjo XR-3 comes with half the price of the previous XR-1 Developer Edition. The virtual reality device Varjo VR-3 price is also significantly reduced compared to earlier generations.
The Varjo VR-3 is available for enterprise purchase for $3,395 along with a one-year subscription starting at $795. The Varjo XR-3 is available respectively for $5,995 and $1495/year.
Want to learn more from our product experts?