Varjo Announces VR-1, World's First Human Eye-Resolution VR Headset For Industrial Use
$5995 Virtual Reality Headset Incorporates State-Of-The-Art Technology Including 60-PPD Resolution Bionic Display™, Integrated 20/20 Eye Tracker, and Compatibility with World's Most Popular 3D Software Engines & Tools; Designed Solely For Industrial Use Cases
February 19th, 2019 – Helsinki – Varjo™, the technology leader in industrial-grade VR/XR headsets, today announced the world's first human eye-resolution virtual reality device, the Varjo VR-1. The VR-1 is designed solely for professionals in industrial design, training and simulation, architecture, engineering and construction. Using VR will be key for these professionals in coming years to radically shorten design life cycles, saving time and money, and make training more effective in realistic immersive environments. VR-1 is the only device that makes that possible in 20/20 vision and unmatched visual fidelity.
Varjo's first headset has a resolution of more than 60 pixels per degree, which is 20X+ higher than any other VR headset currently on the market. VR-1 also comes with world's most advanced integrated eye tracking, enabling high-precision analytics and interaction with human-eye resolution VR content.
Varjo's first product utilizes acclaimed optics and patented technology that have been developed over the past two years by the company's team of 100+ engineers, developers and designers with backgrounds at Nokia®, Microsoft®, NVIDIA® and Intel®. Varjo has also collaborated with world-leading Early Access partners, including AirBus®, Audi®, Bohemia Interactive Simulations™, Foster & Partners®, Saab®, Sellen®, Volkswagen® and Volvo®, to optimize the VR-1 for their respective use-cases.
Varjo will begin sales and shipping of the VR-1 immediately in 34 countries in North America, and Europe as well as Hong Kong. Retailing at $5995 USD with an additional yearly service license of $995 USD, VR-1 is only available for businesses and academic institutions and is designed to support the most demanding use scenarios where visual fidelity is paramount. Examples include training pilots in realistic virtual scenes, and allowing designers to create and interact with true-to-life VR prototypes, translating into faster turnarounds and massive savings in time, work and modelling and development costs.
"Premium cars can only be made with premium tools. To design in virtual reality, we need the high resolution of the Varjo device. With this high resolution there is a seamless transfer between the real world and the virtual world," said Jan Pflueger, Coordination Augmented & Virtual Reality at Audi.
Key features of the Varjo VR-1 include:
Revolutionary Bionic Display. See and create details that were previously unseen. Varjo's Bionic Display™ sets a new standard for high-end professional VR work with iconic human-eye resolution visual fidelity, where every detail, shape, contour, text and surface of a design comes into never-before-seen focus.
Industry-leading 20/20 Eye Tracker. With a sub-degree accuracy, Varjo's proprietary 20/20 Eye Tracker is the most advanced and powerful stereo eye tracking technology ever integrated into a VR headset – delivering unmatched precision and accuracy for interactivity, data collection and analysis in human-eye resolution.
Photorealistic virtual workflows. Supporting major professional 3D software tools and engines (already including Unreal®, Unity®, Autodesk® VRED®, PREPAR3D, ZeroLight, and VBS Blue IG), VR-1 takes graphics to new heights in real-life visual fidelity. A powerful Varjo SDK also enables integration to custom 3D engines.
Varjo has raised a total of $46M USD in funding to start production and global shipping of the VR-1, in cooperation with the world's leading Original Device Manufacturing partner, Flex®. Later this year, Varjo will introduce a Mixed Reality Add-on to the VR-1, enabling seamless transition between real, virtual and augmented content.
"The entire Varjo team has been hard at work for 2+ years to make nothing less than the best headset on the planet," said Urho Konttori, Co-founder and Chief Product Officer of Varjo. "Nothing has been left to chance, nothing has been compromised and we are delighted that the response from our partners has been overwhelmingly positive. VR-1 marks the start of a new era in virtual reality for professionals."
"The incredible visuals provided by Varjo VR-1, combined with the industry-leading graphical power of Unreal Engine 4, show an exciting future for high-end visualization," said Simon Jones, Director of Unreal Engine Enterprise at Epic.
"Varjo is pushing the boundaries of what's possible in VR fidelity," said Timoni West, Director of XR Research at Unity Technologies. The text quality, combined with eye tracking, makes this the first headset to move us closer to virtual reality feeling real. With such high graphical fidelity, we're really proud that Varjo chose Unity as their development platform of choice for their headset."
"We are proud to announce the support of Varjo VR-1 for Autodesk VRED software, the leading product visualization and prototyping application for automotive designers and engineers. Combining the world's first human-eye resolution VR product with the VRED high-fidelity rendering allows our joint customers to experience and evaluate virtual prototypes with an unprecedented level of detail and realism. This is another great step towards holistic digital product review by enabling proper VR HMI Experiences within the digital prototype of a vehicle, " said Lukas Fäth, Product Manager at VRED, Autodesk.
"Varjo and NVIDIA have a long history of working together to reach new heights in visual fidelity for professional VR," said David Weinstein, Director of Virtual Reality at NVIDIA. "Varjo's device makes the most out of NVIDIA RTX GPUs, enabling human-eye resolution graphics quality in VR for the first time." The VR-1 works with NVIDIA's GTX 1080, RTX 2080 and latest Quadro graphics cards.
A wide range of partner quotes and endorsements may be found at www.varjo.com/testimonials.
Varjo Technologies Oy is based in Helsinki and is creating the world's best VR hardware and software for industrial use, merging the real and digital worlds seamlessly together in human-eye resolution.
Varjo is a trademark of Varjo Technologies, Oy – All other trademarks and registered trademarks are the property of their respective owners and are hereby recognized and acknowledged.
See latest updates from Varjo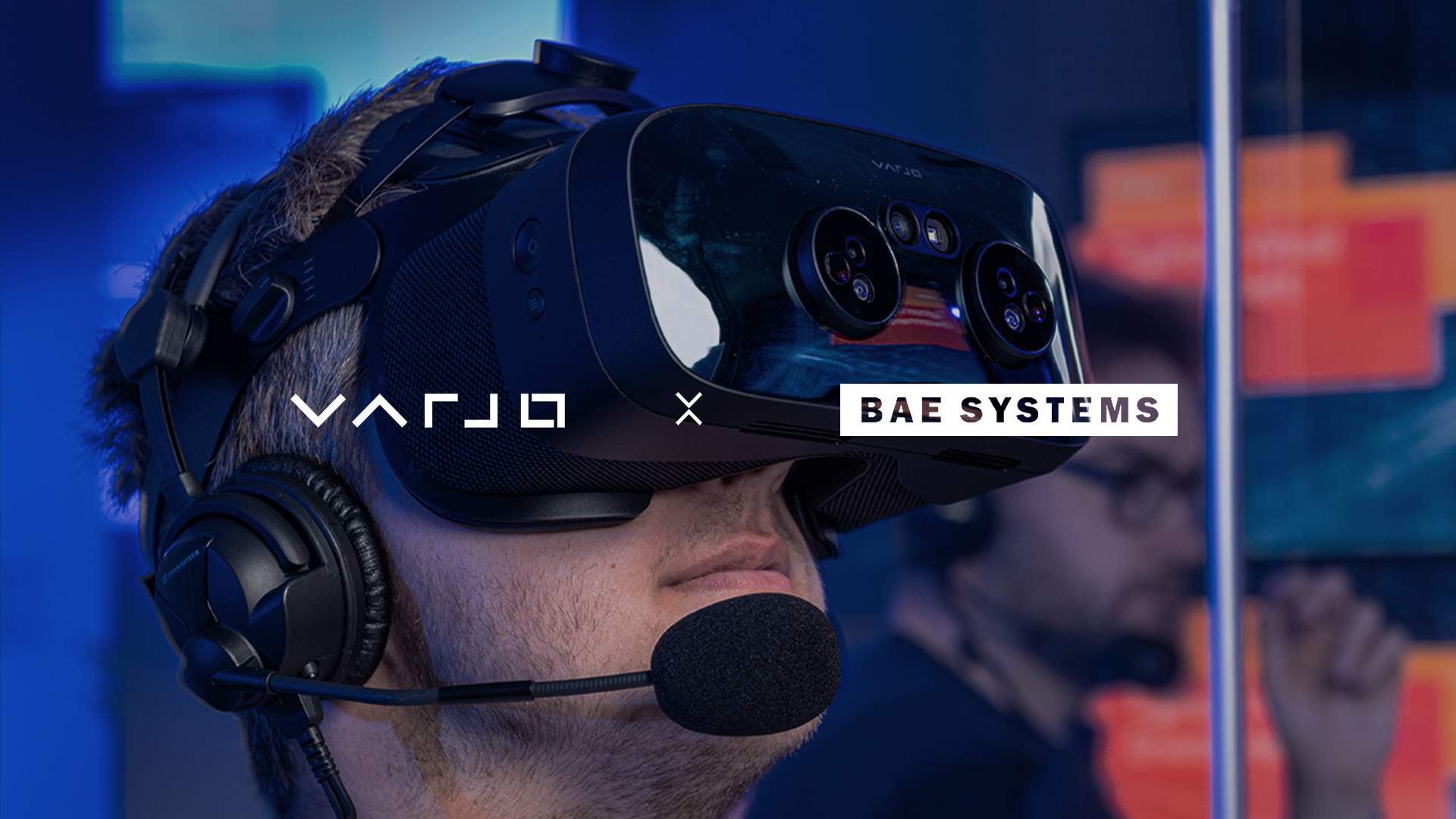 Varjo Joins Forces with BAE Systems in Project OdySSEy, Showcasing the Future of Military Training
Company News
Sep 12, 2023
Varjo Selected as the Headset Technology Provider for Mixed Reality Military Training Project
Press Release
Aug 29, 2023