Varjo Announces XR-1 Developer Edition, A Video-Pass-Through Headset For Engineers, Designers and Researchers on the Cutting Edge of Mixed Reality
Varjo XR-1 Delivers Photorealistic Visual Fidelity in Full Field of View, Resulting in True Mixed Reality Indistinguishable from the Real World; Volvo Cars Investing After a Groundbreaking First Application
May 29, 2019 – Augmented World Expo, Booth #751, Santa Clara, CA – Varjo™ (Shadow in Finnish) Technologies, (Helsinki) the leader in industrial-grade VR/XR headsets, today announced it has delivered on its promise of making virtual indistinguishable from reality with the company's new headset named XR-1 Developer Edition. Shipping XR-1 to cutting-edge mixed reality developers, designers and researchers is expected in the second half of 2019.
The XR-1 is the world's only headset capable of delivering photorealistic image quality with integrated eye tracking. It is the culmination of two and a half years of intensive R&D. The XR-1 enables the real and the virtual to achieve true visual parity – with the XR-1, the dream of 'Hard AR' (where you can no longer tell apart what is real and what is virtual) has at last been achieved in a professional product.
The XR-1 upgrades Varjo's human-eye resolution headset (VR-1) with a front plate featuring dual 12 mpx cameras. The core technology making photorealism possible is video-pass-through. It means that the device uses cameras to digitize the world in real time, and then multiplexes it inside the GPU with the virtual content to show the combined result to the user. The Varjo VR-1 is the only device with the high resolution to make the seamless visual blending possible, and the XR-1 has the only camera technology capable of producing high resolution with unperceivable latency (< 15 ms).
Unlike competitor devices that are delivering mixed reality with ghost-like, semi-transparent renderings in limited view, the XR-1 enables examining photorealistic mixed reality in a full field of view. With the XR-1 virtual objects appear as real as anything in the physical world and can themselves cast shadows or even illuminate reality. Black objects appear truly black, opaque objects indeed block real or virtual light, and semi-transparent objects will refract the light from the real world behind it. With the industry's most advanced color matching technology, the colors are perfectly rendered for product trials and show cases.
For the first time, users can also switch seamlessly between mixed reality and full virtual reality modes. The depth sensors in XR-1 allow mapping real-life objects and environments for building natural occlusion. Examples of industrial applications for the device include UX design, collaboration with photorealistic 3D models, training and simulation, as well as unique research and data analytics across real and virtual environments with XR-1's 20/20 Eye Tracker.
"XR-1 brings all the convenience of seeing your body as well as the real world around you and being able to look at your colleagues while designing a virtual object or environment," said Urho Konttori, Chief Product Officer and co-founder of Varjo. "The XR-1 can show mixed reality with true-to-life fidelity you can only achieve using video-pass-through. Lifelike mixed reality is quite literally impossible to achieve with optical-see-through systems like HoloLens."
One of the closest partners working with Varjo to take advantage of the XR-1 is Volvo Cars® (Gothenburg, Sweden), which is using the device to test-drive virtual car designs on the road. The work is groundbreaking, and Volvo Cars have used XR-1 prototypes for this new workflow since the summer of 2018.
By adding virtual elements to the interior of the car, Volvo Cars designers are able to perform design-studies of future cars before they are even built. Volvo Cars engineers have also been test-driving a real car with the driver wearing an XR-1 headset. Adding photorealistic virtual elements or complete features to the test scenarios while driving (world first) enables UX concepts to be quickly iterated. The car designers can add virtual automobiles or unexpected road hazards (such as a virtual moose) to the road for realism, resulting in faster turnaround times and ultimately safer cars.
Volvo has been sufficiently impressed by Varjo's technology that it is no longer just a partner. As of May 2019, Varjo will receive an investment by the Volvo Cars Tech Fund, the Swedish car maker's venture capital fund that invests in high-potential technology start-ups.
"With Varjo XR-1, we can start evaluating designs and technologies while they are literally still on the drawing board," said Henrik Green, Chief Technology Officer at Volvo Cars. "Instead of the usual static way of evaluating new products and ideas, we can test concepts on the road immediately. This approach offers considerable potential cost savings by clearing bottlenecks much earlier in the design and development process."
About Varjo:
Varjo Technologies Oy is based in Helsinki and is creating the world's best hardware and software for groundbreaking VR/AR/XR computing devices, merging the real and digital worlds seamlessly together in human-eye resolution.
All trademarks and registered trademarks previously cited are hereby recognized as the property of their respective owners.
Press images
Field of view comparison: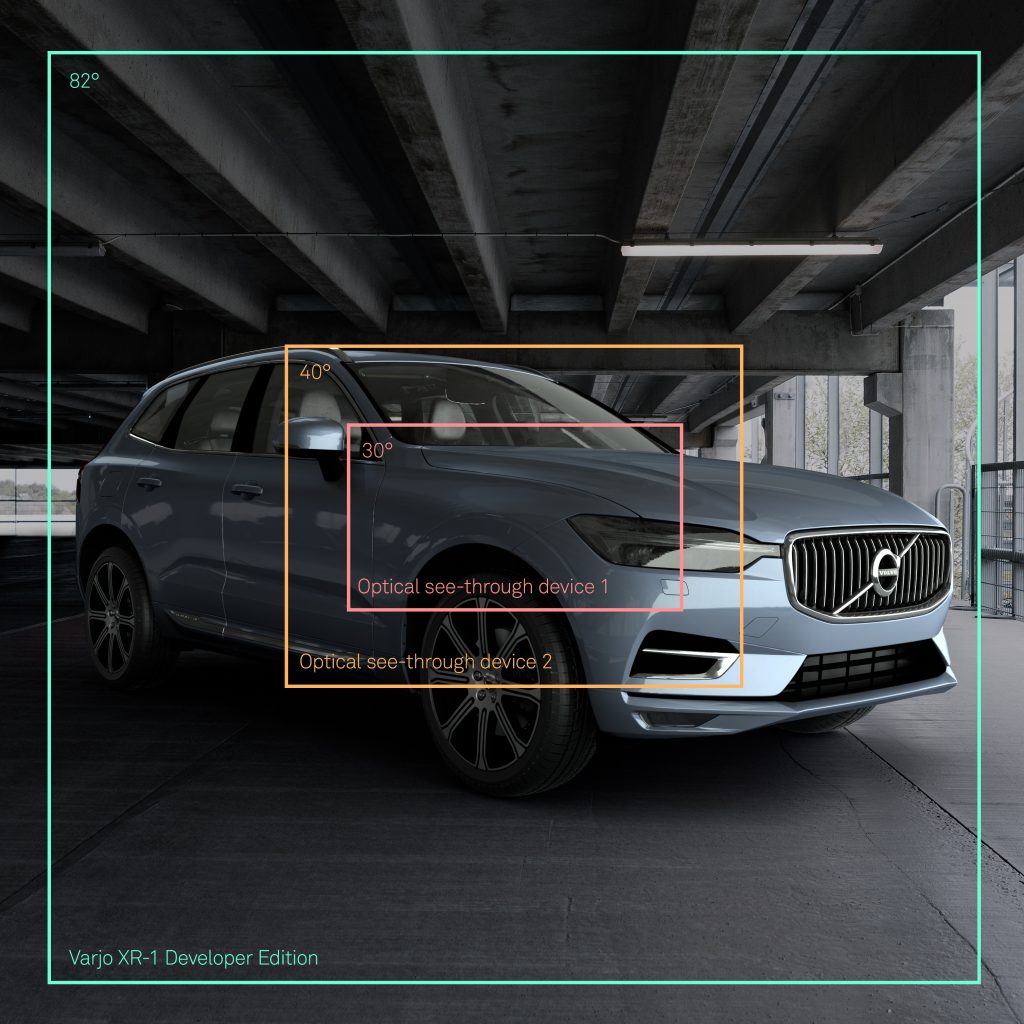 Visual fidelity comparison – optical see-through devices vs. Varjo XR-1 Developer Edition with video pass-through technology:
XR-1 Developer Edition:
See latest stories from Varjo
Varjo Adds Support for Leading 3D Engines to Its Varjo Reality Cloud Platform
Press Release
Nov 9, 2022
Varjo Raises $40 Million Series D Funding to Build an Industrial Metaverse
Press Release
Sep 6, 2022