Kia Launches New EV9 Model in Finland with Varjo's Mixed Reality
The automotive giant sets precedent for an entirely new way of launching car models with mixed reality, effectively bridging the gap between a car model's announcement and its physical availability.
Ahead-of-the-Curve Approach to Car Launches
In an event held on October 4-5, 2023, Kia made waves by launching its new car model, Kia EV9, to Finnish press, stakeholders, and dealer network with a pioneering mixed reality showcase.
Although the first models of the EV9 have yet to set tires on Finnish soil, the mixed reality experience provided by Varjo offered launch event attendees a first-of-its-kind sneak peek of the unreleased vehicle, allowing them to experience the model virtually in a highly immersive environment before its official physical launch.
"The slogan of the Kia EV9 is 'Here to Reshape the Way We Move'. This aligns seamlessly with the ideology of this launch event, as we are in the process of changing how we represent new cars and are bringing entirely new elements into the launch process," says Mikko Autio, Kia PR Manager at Astara Finland.
At the EV9 launch event held in Vantaa, Finland, the venue was equipped with a Varjo headset and a car seat strategically placed at the center of the space. Visitors were invited to wear the headset and take the driver's seat, immersing themselves in a mixed reality experience showing the virtual EV9 in its full scale in the middle of the real-world physical space.
The virtual car model, built with Unreal Engine, accurately depicts both the EV9's exterior and interior down to the smallest detail. Attendees got the opportunity to explore the vehicle's various features and details, even the smallest buttons and instruments within the cockpit, providing a unique level of insight into what the new model has to offer.
Breaking New Ground
In the past, Kia's car launches in Finland were much more limited in scale when the physical car model was not yet available, consisting of a press conference often supplemented by a few images and a video presentation. For many local dealers and partners, laying eyes on the new model requires a waiting game of sometimes several months until the car's arrival in the country. Given the delivery time – and considering that the Kia EV9 is a brand-new model that many are eagerly anticipating – it's highly beneficial for Kia to be able to showcase the car early to Finnish stakeholders who are keen to experience it.
"Launching a car with mixed reality is a pioneering approach bringing something entirely new to the table. We are industry-first in using this technique, leading the way not just in Finland but also on a global scale," says Rami Kittilä, Kia Brand Director at Astara Finland.
The collaboration between Kia in Finland and Varjo began to take shape the year preceding the launch event, tracing back to Autio's first visit to Varjo's headquarters in Helsinki. During the visit, the Autio noticed models from different brands being showcased through advanced virtual and mixed reality, sparking curiosity and ideas for future collaboration. "While visiting Varjo, we got into a discussion and thought, 'Why not just start a project like this together here in Finland?' We had all the tools to do so, and that chat was the spark that kicked off our collaboration," Autio recalls.
Since that pivotal conversation, a continuous dialogue between Kia's Finland organization and Kia Europe has driven collaboration that eventually led to the creation and permits for the virtual model showcased at the launch event. The teams worked cohesively together to address and resolve any questions raised by Kia's global teams on this first-time initiative, ensuring that the project not only got off the ground but also showed precedent in redefining car launch experiences for the brand.
A True Sense of a Car Without Having It Physically Present
This launch marked the first instance where mixed reality technology was used to introduce a car model not yet physically available. The approach allowed local stakeholders to engage with the vehicle in a way that is significantly different from just watching videos or viewing pictures. Users who tried it were particularly excited about VR/XR's potential and capabilities in understanding a vehicle's scale and details.
"You can "feel" the true size of the car in a totally different way compared to videos or pictures, which is particularly useful with larger models like the Kia EV9. Providing customers the opportunity to see the vehicle's actual dimensions before the physical cars arrive is a big advantage," Autio notes.
The mixed reality experience provided by Varjo stands out for its realistic output and high-resolution details. Not only do customers get a sense of the vehicle's size, but they can also explore its interior, scrutinizing all the intricate details in human-eye resolution.
"It's quite impressive that users can inspect features like the EV9's unique lighting patterns up close. They can also observe the textures on the surfaces and the interior, allowing them to almost sense how these elements would feel in reality," Autio describes.
Rave Reviews Highlight the Magic of Mixed Reality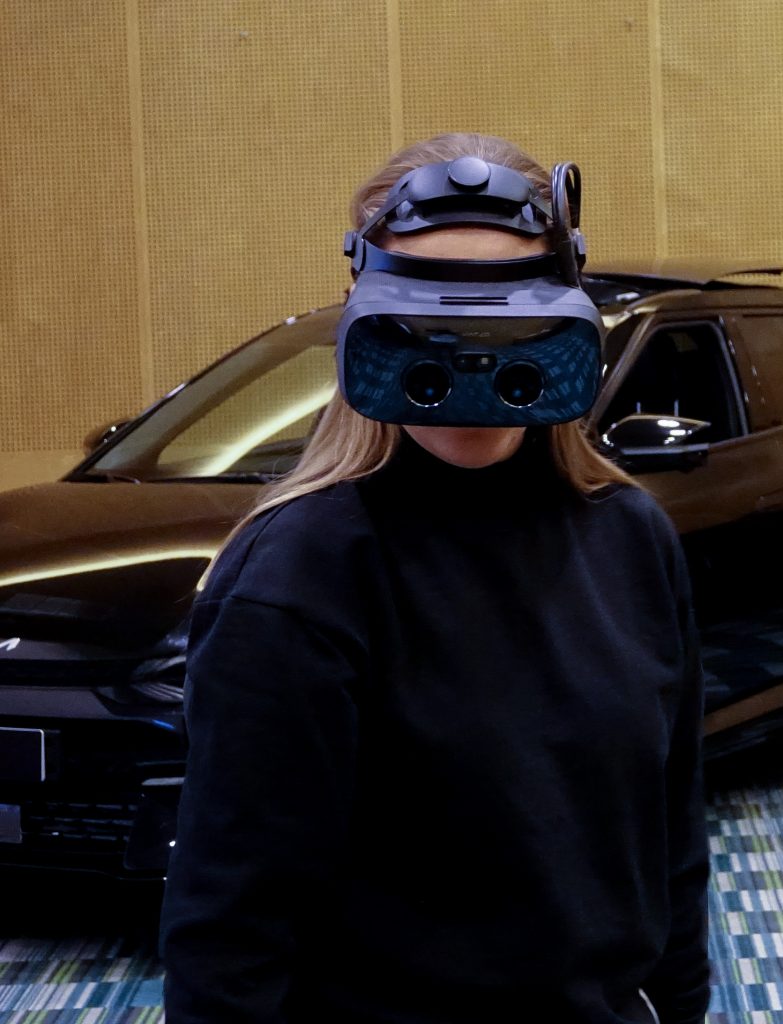 Feedback from participants who experienced the virtual EV9 at the launch event has been overwhelmingly positive. Remarks included enthusiastic statements such as, "This experience is the closest thing to magic I've experienced," and "Our customers could make purchasing decisions based on this experience," and guests expressed excitement about the technology's potential across the board.
"When our guests had the opportunity to experience this, they were wowed and had eyes widened with amazement. The experience is incredible – seeing the vehicle right in front of you with all of its details is truly unique," Kittilä tells.
Participants felt the true immersion of the experience by attempting to interact physically with the virtual environment, reaching out to touch surfaces or press buttons as if engaging with a tangible object. These reactions suggest that users found the technology to be a convincing and engaging way to explore the vehicle in the absence of its physical model.
"Watching our guests use the headset was quite revealing. Observing their movements and reactions, it became apparent that they were experiencing something others couldn't see, making you realize why the word 'reality' exists in 'mixed reality'," Kittilä remarks.
Kittilä and Autio both agree that seeing the car in virtual or mixed reality can ultimately help a customer make a purchase decision, particularly when they are considering different trims of a car or various colors: "Customers are always eager to see different variations of the car and the 3D model is realistic enough to allow them to see the differences effectively. It can extend the configuration process, allowing customers to see precisely what they are working with," says Autio.
"It became apparent that they were experiencing something others couldn't see, making you realize why the word 'reality' exists in 'mixed reality'"
Rami Kittilä

-

Kia Brand Director at Astara Finland
Mixed Reality Steps Beyond Automotive Design
Although numerous car brands already use virtual and mixed reality technologies as essential tools for designing and developing new models – with 16 out of the 20 largest global automotive manufacturers utilizing Varjo headsets in their operations – their application has primarily been limited to those specific departments.
Kia EV9's Finland launch demonstrated a new use case in sales and PR for these 3D immersive models, opening doors to a range of potential uses within the automotive industry.
In addition to its potential as a powerful tool in executing marketing and PR showcases, one of the notable benefits of VR/XR technology is its potential to transform customer experiences and buying processes at dealerships. VR/XR experiences can enable efficient use of showroom space while allowing customers to visualize and get a feel for different car models, colors, and configurations without the vehicles physically being there. This not only enhances the customer experience but also efficiently utilizes often limited showroom space.
"Imagining the potential of deploying this technology in showrooms is exciting, as proven by these past two days of showcasing the Kia EV9," Kittilä says.
"This allows customers to really see and feel the car without its physical presence, so the potential is undoubtedly there. We would love to see Kia adopt this as one of the strategic cornerstones moving forward."
See latest updates from Varjo