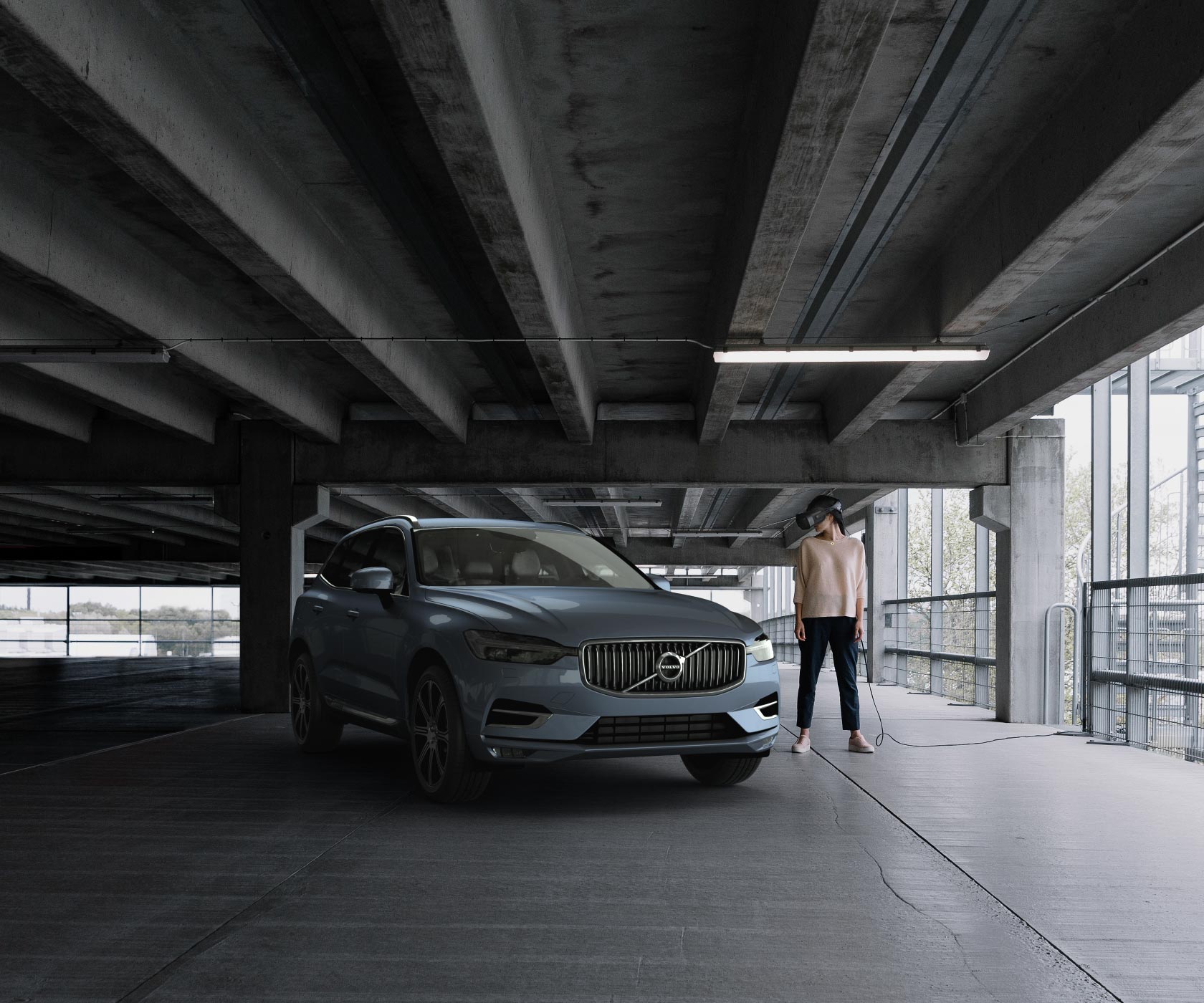 Develop a new reality.
XR-1 is a mixed reality developer device for engineers, researchers and designers who are pioneering a new reality.
With photorealistic visual fidelity, ultra-low latency and integrated eye tracking, XR-1 seamlessly merges virtual content with the real world for the first time ever.
See how Volvo is fast-forwarding the design process with XR-1.
Push the limits of reality and go from industrial VR to XR
Virtual reality is an immersive experience where digital content replaces the physical world. With mixed reality, virtual content coexists and interacts with the real world around you.

High visual fidelity is what makes both look and feel real.
VR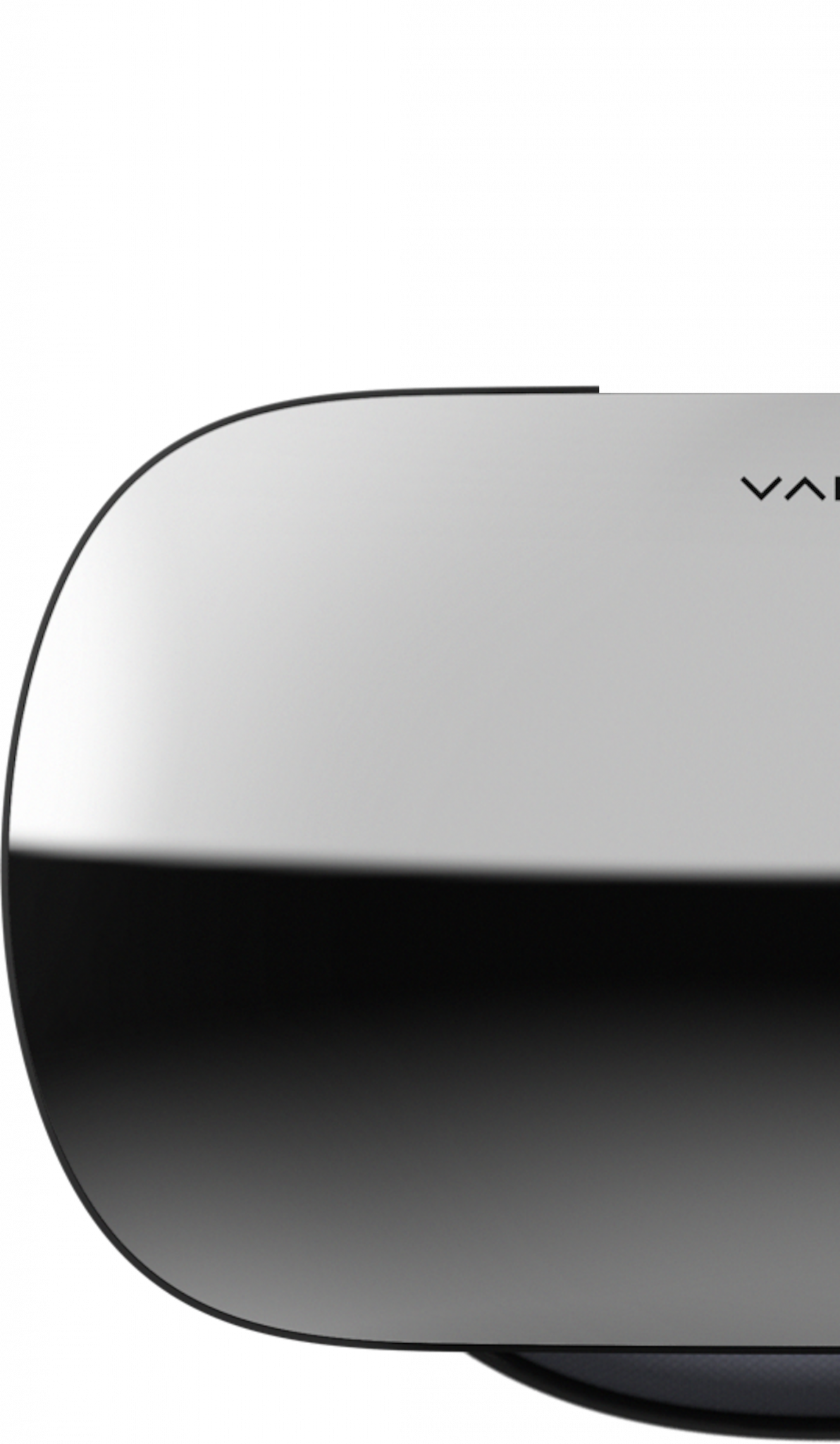 VR-1
Design a virtual object
Visualize a virtual object
Experience a visual simulation
Test a new design
XR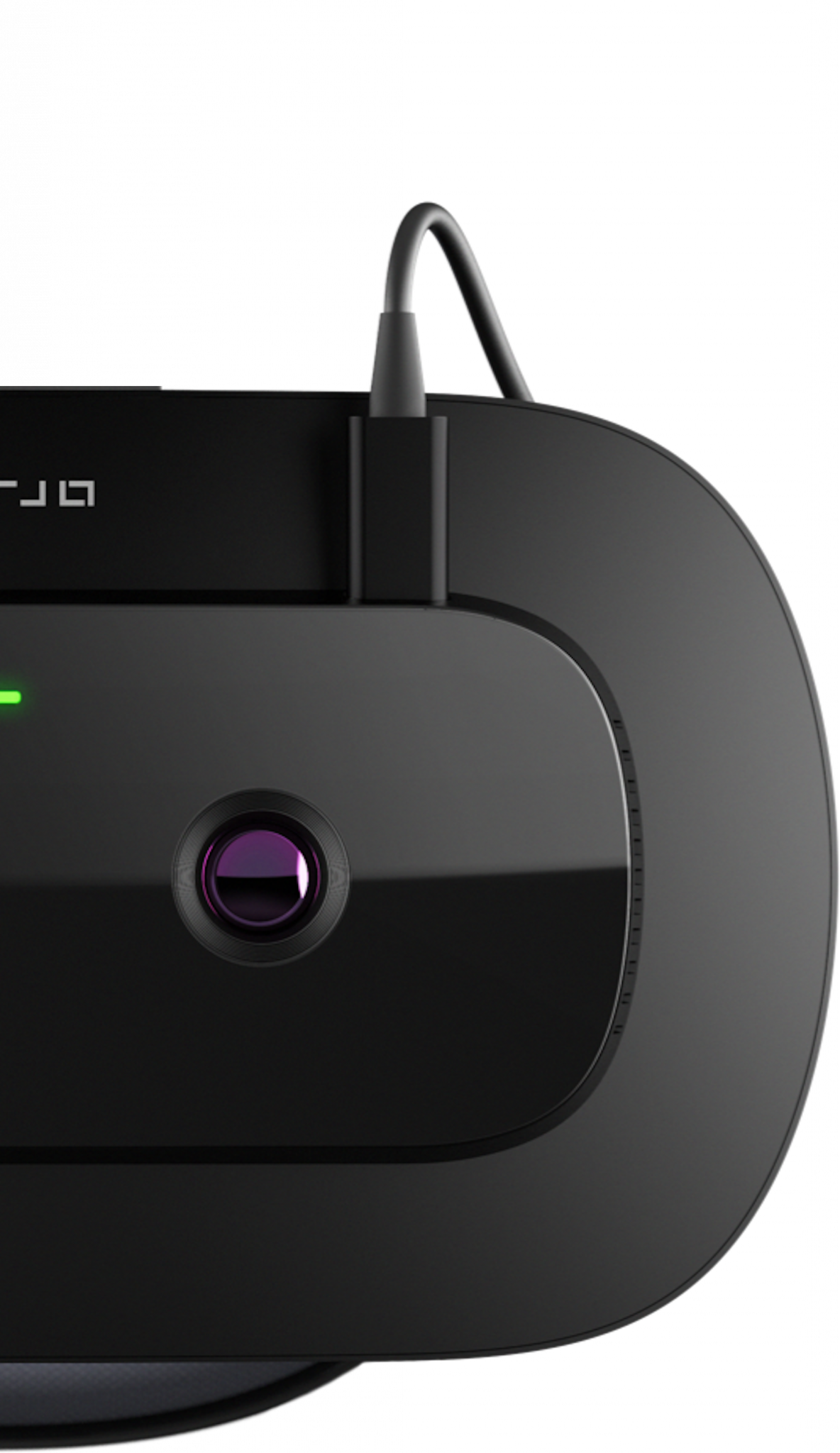 XR-1
and stay connected to the real world
in the real world
and see your hands and controllers
by integrating it in the real world
Seamless blending of real and virtual
The first-ever photorealistic mixed reality
Blend the real and the virtual with XR-1, the only device that lets you build photorealistic mixed reality scenarios.
For the first time ever, Varjo XR-1 shows virtual content as it should appear – indistinguishable from the real world.
You'll see real and virtual content with video pass-through, which enables true-to-life colors, lights, and shadows in full field of view (82 x 82 degrees).
With XR-1, professionals in engineering, design and simulation can develop and interact with photorealistic 3D models while collaborating with others in real life. And they can switch seamlessly between XR and full VR – bringing the benefits of both worlds into one device. That means professionals can test designs in different environments and manipulate their surroundings with pixel-perfect control.
When you create with XR-1, you develop a new reality.
With video pass-through, nothing is see-through
XR-1's photorealism is powered by ultra-high definition stereo pass-through, which is achieved with superior cameras, sensors, optics, ISP and our patented Bionic Display.
Read more about the technical specifications & requirements of XR-1 Developer Edition by downloading our one-pager.
Comparison images
This image simulates what you see when looking through Varjo XR-1 vs. optical see-through mixed reality devices.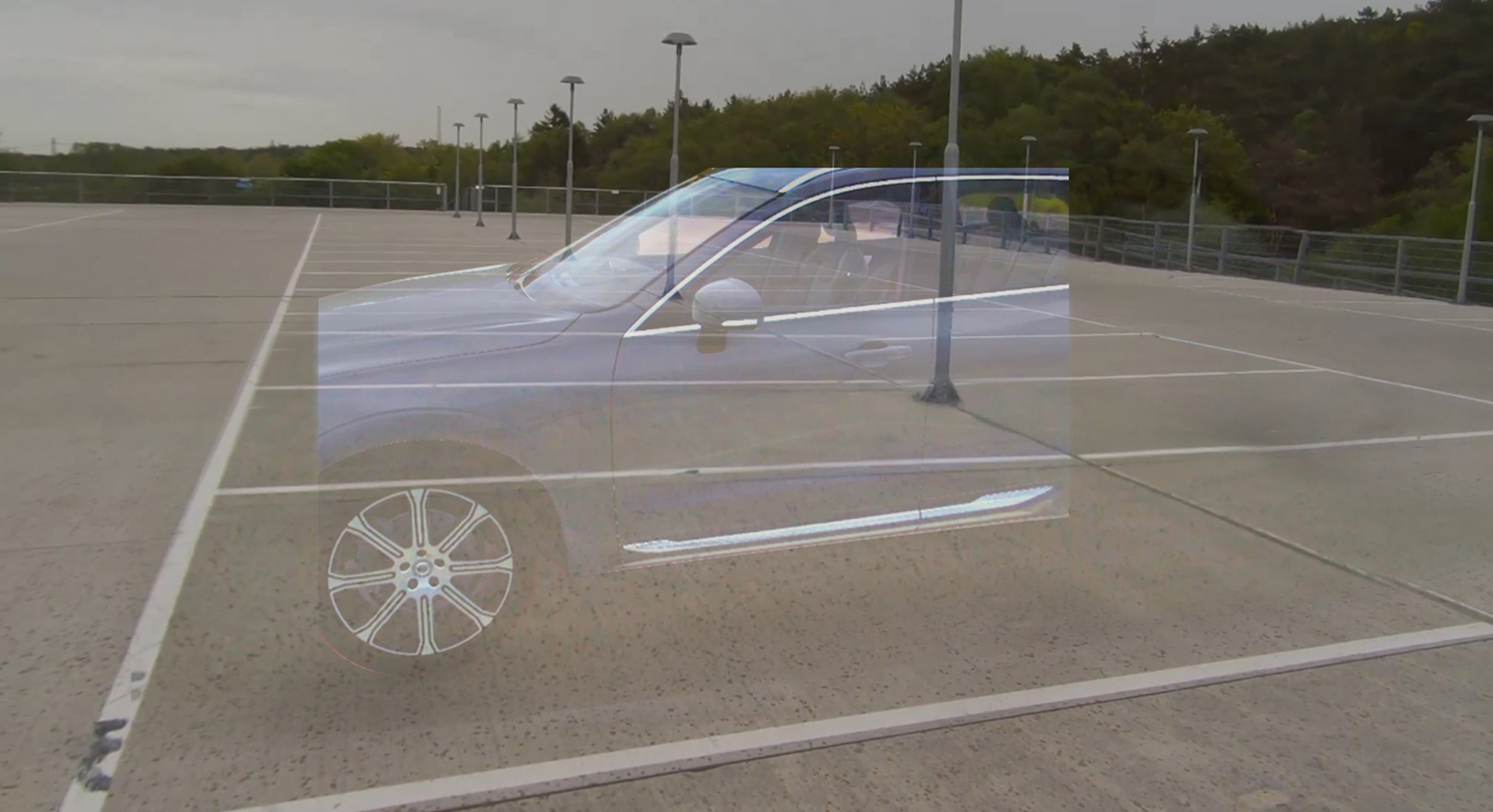 VS. OPTICAL SEE-THROUGH DEVICE
With Varjo XR-1 (image on the left) virtual objects appear solid and photorealistic, and they can seamlessly cast shadows on reality in a full field of view. With optical see-through devices (image on the right), virtual content appears holographic and can be experienced only in a narrow field of view.
Unique user research and analytics
Track eye movement across real and virtual environments
XR-1 is the only device that can track users' eye movements across photorealistic mixed reality scenarios with sub-degree accuracy.

Eye tracking provides valuable user insight to those using XR-1 for research and development, training and simulation, product design, and more. It adds a unique level of human understanding, context and reliability to mixed reality experiences.
XR-1's 20/20 Eye Tracker also works just as precisely for people who wear glasses.
Ultra-low latency and depth awareness
Create true-to-life interactions
XR-1's ultra-low latency image pipeline lets you explore true-to-life digital worlds as natural extensions of the real world – without perceivable lag.
XR-1's <15 ms latency is so low that professionals can explore mixed realities just as they would experience the real world. That means you can create, discuss, collaborate and even drive a car in mixed reality in a way that feels completely real and natural.
Because XR-1's depth sensors allow it to understand the 3D structure of the real world, developers can use it to build depth-aware applications where virtual and real objects interact seamlessly.
XR-1 is also a solid platform for generating reliable hand tracking, surface detection, and gesture recognition, and other features down the line.
Pave the way
Together, Volvo Cars and Varjo are literally driving the future by creating the world's first mixed reality approach to evaluating prototypes, designs and active safety technologies.
For the first time ever, Volvo Cars and Varjo have made it possible to drive a real car while wearing a mixed reality headset, seamlessly adding virtual elements that seem real.
"Driving with an XR headset is the most challenging automotive use case Volvo has ever worked on. XR-1 is the only device that's up to the challenge," says Casper Wickman, Technical Leader at Volvo Cars.
The world's first mixed reality application for car development
Volvo Cars has been using XR-1 prototypes in their workflow since the summer of 2018. By adding photorealistic virtual elements to the interior of the car, Volvo Cars designers are able to perform design-studies of future cars before they are even built.
In the future, the use of XR-1 will enable Volvo Cars to iterate design and UX concepts quickly and to avoid tedious tool and software changes, saving a significant amount of money along the way. "We'll be able to do things in a day that would normally take weeks or longer," Casper Wickman says.
When it comes to the design evaluation process, it's crucial to be able to see the outer shape and proportions of the car, but also the fit and finish between the components, the graining of the leather, and more. "XR‑1 adds unprecedented realism, which means we have more faith in the results of our evaluations. And it's so much faster as there's no limit to what we can do in mixed reality," Wickman says.
Volvo Cars engineers have been test-driving a real Volvo XC90 car with the driver wearing a XR-1 headset. Previously this has not been possible with any other device.
"When you're using XR to drive, latency is as important or more important than resolution. XR-1 manages to be extraordinary at both."
"XR-1 is the only device where you can no longer tell what's real and what's not."
Casper Wickman

-

Technical Leader, VOLVO CARS
XR-1 enables Volvo Cars to perform unique user research
With XR-1's integrated 20/20 Eye Tracker, Volvo can understand the relevance and results of user analyses. Eye tracking adds a very big layer of capability and trustworthiness – you're observing the vehicle as the customer would, so you get a much more efficient view of what's important and what's not.
With XR-1, Volvo is able to perform UX studies by keeping as much as possible of reality – the real road, nature, road signs and more – and only exchange the things they want to evaluate, for example a new display or interior.
"When you're driving with XR-1, you actually forget you're looking through a headset. People using XR-1 break when they see a virtual moose crossing the road. Or when a virtual car overtakes our test car, test drivers have asked "Is that car real or not?".
As for the future, Wickman says there are endless opportunities to extend the collaboration to manufacturing, car assembly training, retail, car configuration, research and more.
"From now on, each time we want to try something that doesn't exist, XR-1 will be the technology we will use."
Camera & optics
2 x 12 megapixel at 90 Hz. Fixed focus, 1/3'' sensor size with 1.55μ pixel size. 82° x 82° viewing angle.
Imaging pipeline
4 streams (2 per eye): 1008 x 1008 downscaled from the full 12 Mpx + foveated 834 x 520 full resolution crop.
VR display system
Bionic Display™ with resolution at over 20/20 vision (over 60 PPD / 3000 PPI), flicker-free screen refresh at 60/90 Hz. Combining 1920 x 1080 low persistence micro-OLED and 1440 x 1600 low persistence AMOLED.
Latency
< 15 ms photon-to-photon
Eye tracking
Industrial-grade, sub-degree accuracy integrated 100 Hz stereo eye tracking delivering unmatched accuracy and precision across real and virtual environments, even when wearing glasses or contact lenses.
Depth
An active IR sensor system consisting of 2 wide-angle cameras, LEDs and structured light. The depth system is synchronized with video-pass-through to provide low latency and a robust depth map.
Connectivity
10 m active optical Thunderbolt cable
Colors
Infinite contrast ratio (over 10000:1) enabling the deepest blacks and individually calibrated colors, delivering outstanding accuracy and image quality.
Tracking
Compatible with Steam VR™ base stations and ART™ tracking
XR-1 weight
1065 g without counterweight (including head band); 1315 g with counterweight
Comfort & wearability
XR-1 can also be worn by people who wear glasses. It features an active airflow system, adjustable and detachable headband and head strap, comfortable usage with two different sized, easily replaceable face cushions and automatic interpupillary distance (IPD) adjustment for easy and accurate calibration.
Processor

Intel Core i7-8700

AMD Ryzen 7 2700

GPU

NVIDIA GeForce® RTX 2080

NVIDIA Quadro RTX 6000

RAM
32 GB
Storage space
2 GB
Video output
2 x DisplayPort 1.2
USB port
1 x USB-A 3.0
Operating system
Windows 10 (64-bit)