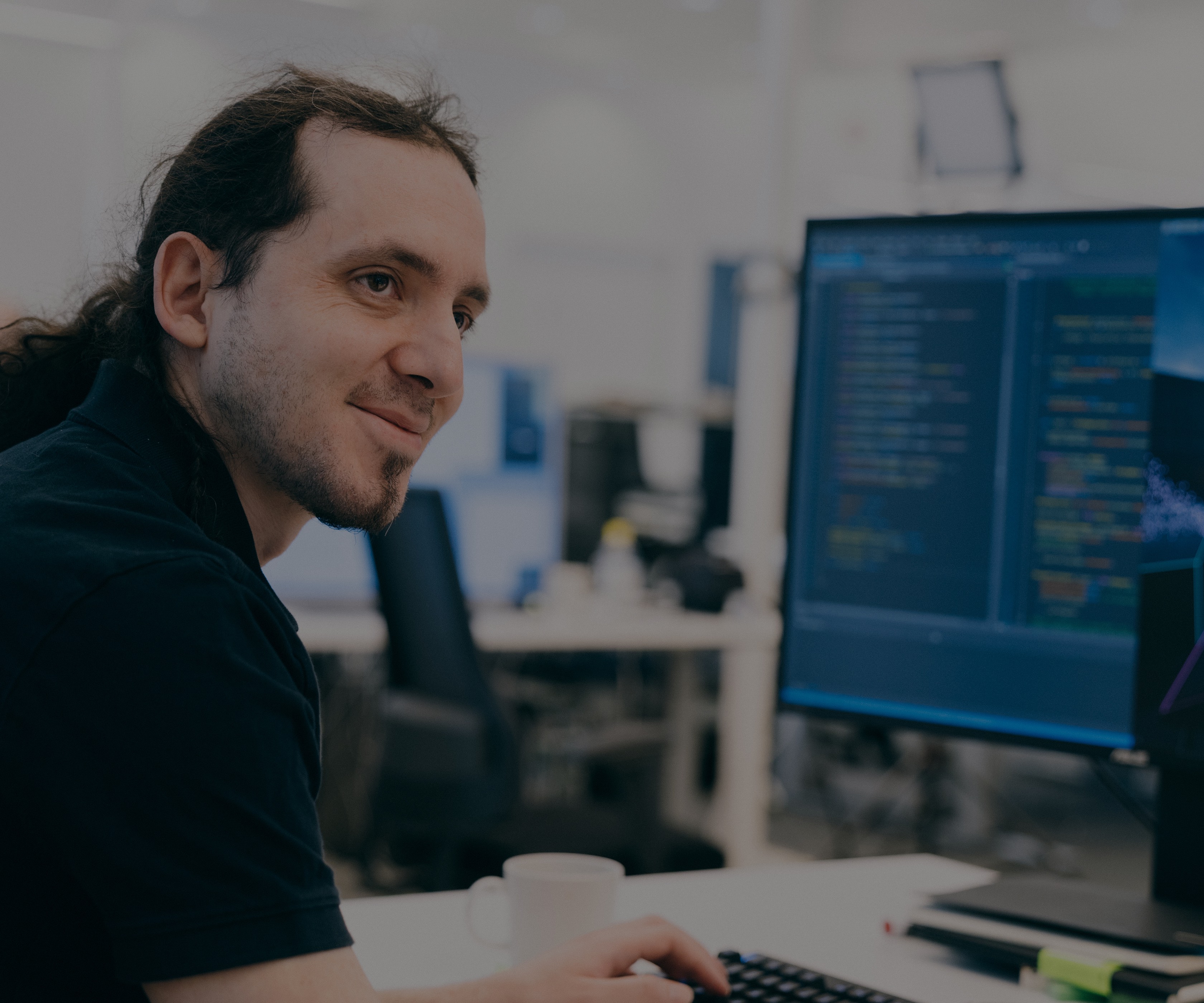 "We're going to revolutionize immersive computing."
Senior UNREAL DEVELOPER since July 2017
"If you have a question, you can't google the answer because it doesn't exist."
We're defining VR, XR and augmented reality as it should be, not as it's used right now. The people who work here want to be part of that.
We're creating something entirely new. So if you have a problem with design, code or something else and you google the answer, you're going to get an empty page. It's up to you to find the answer. Then when the next person has the same question, they'll google you.
We're creating really amazing stuff. As a developer, there aren't many places in the world like this. The dev team motto is: "Leave me alone, I know what I'm doing." And that's really true. We trust each other to do what each of us does best. At the same time there's also a really strong culture of helping each other with questions or challenges.
VR and XR environments aren't easy to build. Achieving high-performance or stunning visuals is easy. It's when you try to do both at the same time that the problems start. When you aim for better visuals, you have to optimize the code or users will get simulation sickness. And if that happens people aren't going to enjoy what you've worked so hard to create.
"Leave me alone, I know what I'm doing."
Building a realistic environment with high frame rates is always our main focus, but most of our partners aren't experienced in creating game environments. Part of my job is to help them by creating tools they can use in their own development process.
That means things like making examples that they can integrate into their own projects and giving them advice on how to optimize their projects for better visuals and performance. I also teach them tricks that will help improve their visual quality while still retaining a steady frame rate and the highest possible performance.
What we're doing is unchartered territory, so you don't know what kind of technical and design challenges you'll face until you get there. That can be scary – like really scary.
"People with crazy ideas are the people who change the world."
Varjo went public with our headset the night before my job interview. I looked at all the news and comments on Facebook, and when I read the founders' CVs, I got even more scared. They have so many patents between them and I thought they are a bunch of scary God-like guys. But they're really supportive and almost strangely humble.
Finnish people are great because they have a lot of crazy ideas. Like when they sent the heavy metal band Lordi to the Eurovision Song Contest in 2006 and they actually won! So it shouldn't surprise anyone that the Finns at Varjo are also crazy enough to say "We're going to revolutionize immersive computing". And we are. All of us.
Want to change the world?
Take a look at our open jobs in software or view all open positions.
Open positions
DON'T SEE YOUR DREAM JOB?
If you're passionate about tech and love to push limits, we want to know more. Send an open application to [email protected] and tell us who you are.