Case Fortum: Virtual Reality (VR) for Nuclear Power Plant Operator Training
With virtual reality, design validations and operator training at nuclear power plants can now be done more effectively.
The Loviisa plant in Finland is the first nuclear power plant in the world building a dedicated VR training room for control room operators. And Varjo is the only virtual reality device that is up to the challenge.
Case Fortum: VR brings clear advantages for nuclear power plant operator training
90% less cost vs. building a physical simulator
Power plant operators can train just like in a physical simulator, with a fraction of the price
Pre-validation and evaluation of design can be done several months earlier
Increased accuracy of operator assessment with eye tracking
"The cost of a VR simulator is 1/10th of the cost of building a physical simulator. And with Varjo, the visual fidelity of our virtual simulator is finally on a level that it should be."
When it comes to industrial environments, the nuclear industry leads the way in improving safety. Enormous amounts of money are spent yearly on the design and validation of the human-machine interfaces, as well as procedure optimization. Nuclear power plant operators worldwide act according to strict manuals. Nothing is left to chance. The goal is to maximize safety and efficiency, and human-machine interfaces play an important role in it.
Joakim Bergroth is a human factor engineering expert with over 10 years of experience in the nuclear field. His responsibility as the product lead at Fortum eSite is to develop and take new technologies, such as virtual and augmented reality (VR & AR), into daily use at nuclear power plants and other safety-critical environments. Fortum is one of the largest power generation companies in the Nordics, and Fortum eSite is their internal venture which provides leading industrial-grade VR solutions to safety-critical environments and the process industry in general.
Bergroth is also involved in the implementation of the world's first fully dynamic and interactive virtual reality control room in Loviisa, where the operators are now getting ready to take VR into training and daily use on site. Already now, 90% of Loviisa personnel have done training in VR environments.
"In safety-critical environments and process industries, human errors can lead to serious accidents and production losses. Millions of euros are used to build physical simulators where operators can practice different scenarios from small disturbances, such as pipe leakages, to severe accident training. The physical simulators are usually fully booked, which doesn't leave much time for additional testing or evaluations," Bergroth says.
Training in a traditional physical simulator is expensive, but building a physical simulator is even more expensive. A physical simulator means building an exact, functional replica of the real environment, such as the control room of a power plant. Recreating a virtual replica costs only a fraction compared to that, bringing about huge cost savings and the ability to implement changes quickly.
"The cost of a VR simulator is 1/10th of the cost of building a physical simulator. And with Varjo, the visual fidelity of our virtual simulator is finally on a level that it should be."
Virtual validations bring cost savings
When Bergroth tried Varjo's device for the first time, he immediately saw the potential for operator training and design validation.
"With Varjo, I was able to do things that I haven't been able to do before with any other off-the-shelf VR headset, such as read manuals and distinguish the smallest digits from the control room displays with ease. No other VR device can perform this kind of realism," Bergroth says.
"From the first headsets onwards, the low resolution has always been on top of everybody's minds."
In nuclear control rooms, there are usually hundreds of hardwired panels and detailed monitors with real-time information on pipes and gauges. That is why one of Bergroth and his customers' biggest obstacles preventing full utilization of VR so far has been the resolution of existing VR devices on the market.
"Previously, when you needed to look at dynamic displays in a simulated VR environment, you would usually lean closer to the display to see the parameters and symbols clearly. That's not something you would do in the real world. You were forced to do it because the resolution was not good enough. With Varjo, the problem has finally been solved. Virtual environments can now be explored in a realistic way."
Another crucial aspect in the safety-critical environments is the design process. For nuclear control rooms, validations are a compulsory part of the design process. All operator procedures, new display systems and hardwired panel designs need to be validated in physical simulators before they're taken into use. This is to ensure that the control room works as intended.
Before VR simulators, validations were typically done very late in the project, and any design change needed time-consuming changes in the physical simulator on site. This was costly and ineffective.
"In the worst case, a critical design error in the validation could have postponed the project with a full year, because of no time to fix the error. With the help of VR, pre-validations and evaluations can be done several months ahead of time. There is plenty of time to fix errors and findings before physical implementations. That saves an enormous amount of time, money, and grey hair in general," Bergroth describes.
"The first time we did a pre-validation in VR and then went into the physical simulator, we were confident that we had all the biggest errors fixed. And we did. It saved us thousands of working hours, and monetary-wise probably hundreds of thousands of euros."
Fortum eSite's virtual validation solution is globally unique – nobody else in the world has done integrated system validation for nuclear control rooms up till now. And with Varjo, nuclear operators will now have a superior tool for validations and training.
Varjo takes a step up in providing safety-critical operator training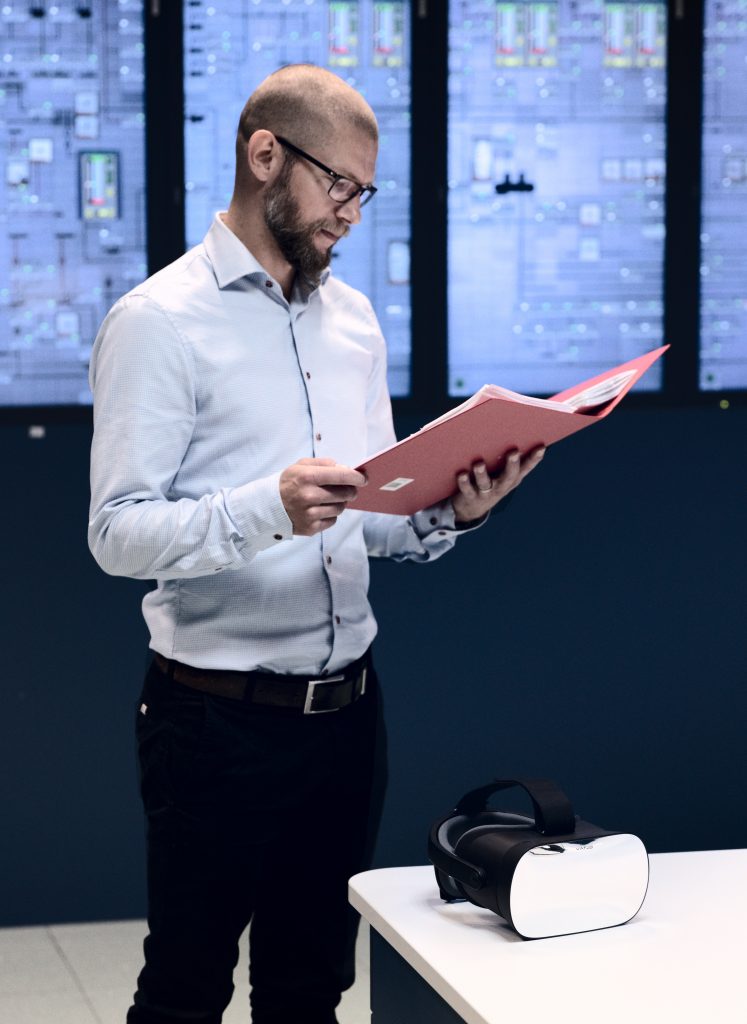 There are altogether 450 nuclear plants in the world, and in all of them, everything is done according to strict procedures. Whenever you get a disturbance in the process, you are following a step-by-step manual to find out what's wrong. And when you have identified what the problem is, you act accordingly as well.
Training is required for all possible scenarios from small disturbances to critical accidents.
"It's very important to follow the manual in every step. Even though the operators are the experts and the ones making the decisions in the end, they need to follow the procedure. Virtual reality can help in training them, further enhancing security," Bergroth says.
It is Bergroth's goal to make sure the operators of a nuclear power plant are trained in the most effective way. And with Varjo, operators at nuclear power plants can now train as they would in a physical simulator, with a fraction of the price.
"With Varjo, you can read the papers and procedural instructions as you would in real life. And the same goes for the control room display systems: you don't need to lean forward to read the digits. That is absolutely crucial. When the resolution is poor, it is an extra thing to think about for the operator and they act differently compared to real life," Bergroth says.
Another important feature of Varjo HMDs is eye tracking, which can help Bergroth and his team to analyse operator performance and get information about how well the user interfaces work.
"Oftentimes during training, the training staff are not able to know which procedures the operator trainees are using, as they don't have visibility on which page or sentence the trainee is following in the manual. The integrated eye tracking functionality in the Varjo device gives insight into operator behavior that we haven't had before."
Trainers can follow trainees' eye movements accurately, and also give them automatic assignments. For instance, if the procedure says that the trainee needs to check a certain value from the hardwired panels, with the help of real-time gaze data, a trigger can be assigned in the VR environment to notify if he has not completed the action in sufficient time after reading the instructions.
Simulating real-life stress factors
Thanks to the realism level of Varjo's HMD, it's possible to add elements to the training that have not been possible to do before.
For instance, nuclear field operators can be involved in the training scenarios in a realistic way. If there is a scenario where a field operator needs to check something on the plant, the field operator can actually walk inside the VR environment to the place in question to perform the required operation, wearing the headset.
"We can also add natural phenomena like fire, smoke, flood, or earthquakes that are impossible to accomplish in physical simulator or environment. With Varjo, it is possible to get the stress factors to a more realistic level, so that we can learn more about how well our human machine interfaces are working. Also the operators are more prepared if something like that would happen in real life. More realistic training adds to the overall safety and efficiency of a power plant," Bergroth says.
Bergroth sees immense potential in transforming the way nuclear power plant operators are trained globally. But in the near future, he also expects to see VR taken into use in many other safety-critical and process industries, as full-scale, full-scope VR simulators can bring remarkable cost savings compared to physical simulators.
And with Varjo, operators can finally see clearly.
"With Varjo, the end users in nuclear operations and many other industries are more likely to see and accept the possibilities of VR and what it brings to their industry. That is game-changing."
Download the case two-pager
Want to learn more about using VR at industrial sites?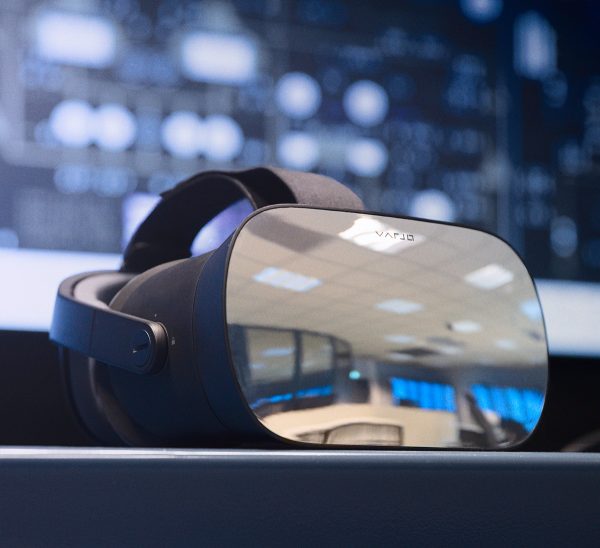 Fortum eSite is a partner of Varjo for delivering efficiency through new technologies at industrial sites. Fortum eSite is dedicated to building novel solutions for process and safety-critical industries, including VR simulators using Varjo HMDs. Learn more about Fortum's solutions:
Read why Varjo is the best solution across industries:
Webinar on Demand: From Contract to Deployment – Building an XR Air Refueling Simulator for the USAF